Welcome to our Sports News page!!
Year 3/4 and 5/6 Football Tournament
On Wednesday, it was the turn of our footballers! We took a huge number of children to participate in a large tournament. Year 5/6 battled throughout, as did one of our Year 3/4 teams, with positive results. The stand-out performance was from our Year 3/4 A team, who dominated the group, winning 4/4 matches. In the semi-finals, despite applying all of the pressure and missing some excellent chances, they were defeated with a last minute goal - the only shot they faced. But still, a superb afternoon from them!
Cross Country @ St Catherine's
We took a number of children to St Catherine's for a cross country event. There were many other schools there (14 in total), mostly private, but WSG did admirably! Year 3 were awarded 3rd place overall and Year 5 2nd place. There were stand out performances from Sophia Radley (9th), Jessica Stone (7th), Ellie Bowers (10th) and Lily Smith (5th). Well done to everyone who ran.
Year 6 Girls Netball Tournament
The Year 6 netball team went to a tournament against a number of other schools. They performed really well, winning two and losing two games. They showed great progress from when they played some of these teams earlier in the year - well done girls!
WSG 3 - 0 St Catherine's
On Tuesday, we took 14 girls to play in a Yr 5/6 fixture against St Catherine's. It was a tough game - despite waves of attacks, WSG struggled to break down the wall of defenders in front of them. However, as the game went on, they worked out a way to win it and in the end it was a great result! Goals from Eleanor, Ellie-Rose and Sophia helped us to a 3-0 win. With a number of other fixtures to come this term, this has made for a great start!
Year 4 Dodgeball winners!
A HUGE well done to those in Yr 4 who attended a dodgeball tournament at Glebelands yesterday. We entered two teams, and both represented the school brilliantly. One team even won the whole thing!
Another great victory for WSG!
Benchball Champions! by Jessica, Florence and Matilda
On Tuesday 3 December a mixture of Year 4, 5 and 6 went to a bench ball tournament at Broadwater. We did extremely well because we came in the top 2! Team B won all of their matches and therefore won the tournament! Team A won all of their matches except for when they played our team B and they lost with 4 people on the bench so they came second. Our school were truly incredible and showed all of the school values to make our school proud.
"It was great fun because we all worked together" Samuel Yr 6.
" I loved it, it was so much fun. We all did really well to win." Emily Yr 5.
Swimming Gala at Cranleigh Leisure Centre by Jessica, Florence and Matilda
On 17th November Year 3, 4, 5 and 6, went to a swimming gala at Cranleigh Leisure centre. Everyone thought that that we had made a huge improvement from last year and we all agreed that our schools best stroke was front crawl. We won a few of our races and only lost a few - despite our improvement we only came 4th but last year we came last! The girls did really well and managed to come second out of all the schools! Well done to everyone who participated.
" I thought we did really well and everyone tried their best. It was so much fun." Sofia Avery Yr 5.
" I had so much fun and it was great. We all tried our best and there was a great turnout." Ellie Bowers Yr 3.
Netball Tournament by Jessica, Florence and Matilda
On 13th of November, some year six girls played a netball tournament against a variety of different schools. They played four different matches and won half. The first match was against Gracewood and unfortunately lost 2\0. On the second match they played St Barts and won 6\4! On the third match they played St Eds, who were an incredible team, and they sadly lost 9\0. Then the last and final match was against St James. In the last minute of the last match, thanks to our brilliant goal shoot, they won 1/0!!!!! Sadly our chances of winning had gone as we got knocked out of the tournament but we came 3rd in our group. Our year six girls are a truly amazing team and during the matches showed many house values!
Year 3 and 5 boys' football tournament
The

Yr

3 boys performed superbly, showing great improvement from last year with two wins, a draw and a loss. A special mention to Tyler whose finishing was Jamie Vardy-esque up front!
The

Yr

5

boys (with half a team of

Yr

4s too) were brilliant throughout, with the highlight being a last second winner, with Toby dribbling half the length of the pitch to slot the ball past the goalkeeper
Dance Festival
We took a large number of children from WSG to a dance festival at Broadwater School - it was great to see everyone learning new choreography, in what was a very physically exhausting day!
Year 4 boys and Year 3/4 Girls' Football Tournament
The Yr 4 boys tournament was very positive, with two wins, a draw and a loss, and they narrowly missed out on the semi-finals.
The pick of the performances though was from our Yr 3/4 girls team, with many having not played before. The team spirit, excitement and physicality shown was fantastic, to take them through to the semi-finals, out of 15 teams participating. Well done girls!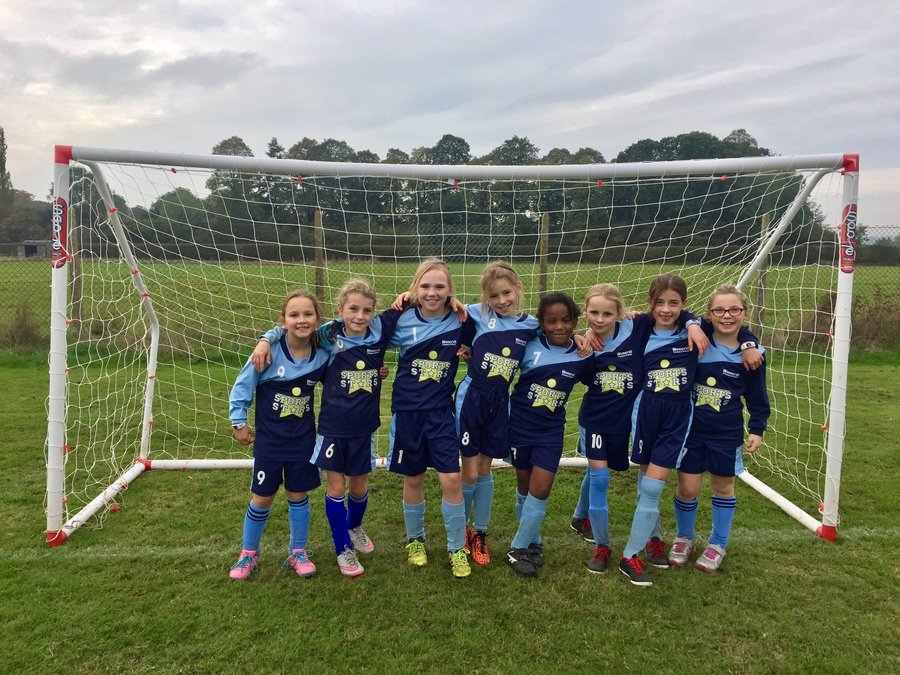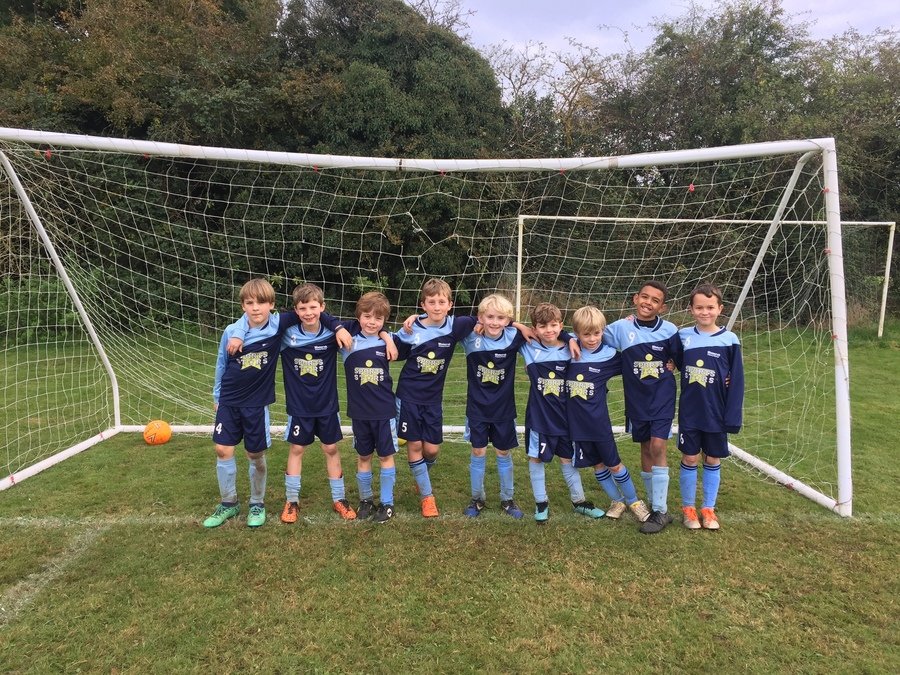 Year 2 Multi-Sports Festival
Year 2 went for an afternoon of multi-sports at Broadwater School! They loved trying the different activities and developing teamwork skills along the way
WSG 10 - 0 Park Mead
Year 4 played in a friendly football match against Park Mead on Tuesday. They turned in a record WSG victory of 10-0! Never before have we witnessed such a dominant performance. Ten goals is quite something - superb work from everyone involved!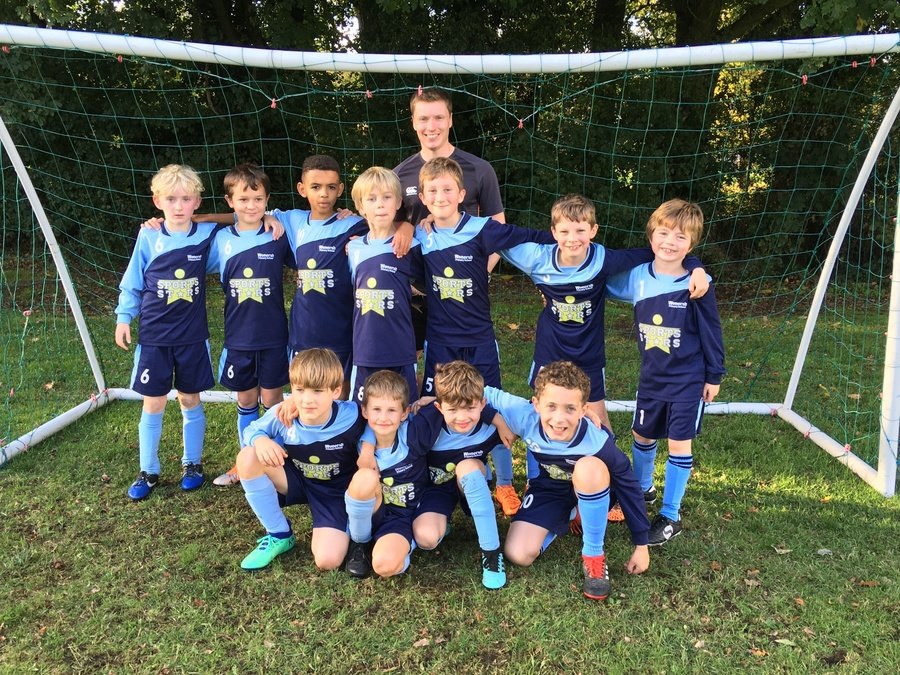 Sports Leader Training
On Wednesday, our new Yr 5 sports leaders went on a training day to Broadwater. They came back full of ideas and ready to go! They will be leading different lunchtime clubs, helping with different events and the organisation of sport at WSG over the year.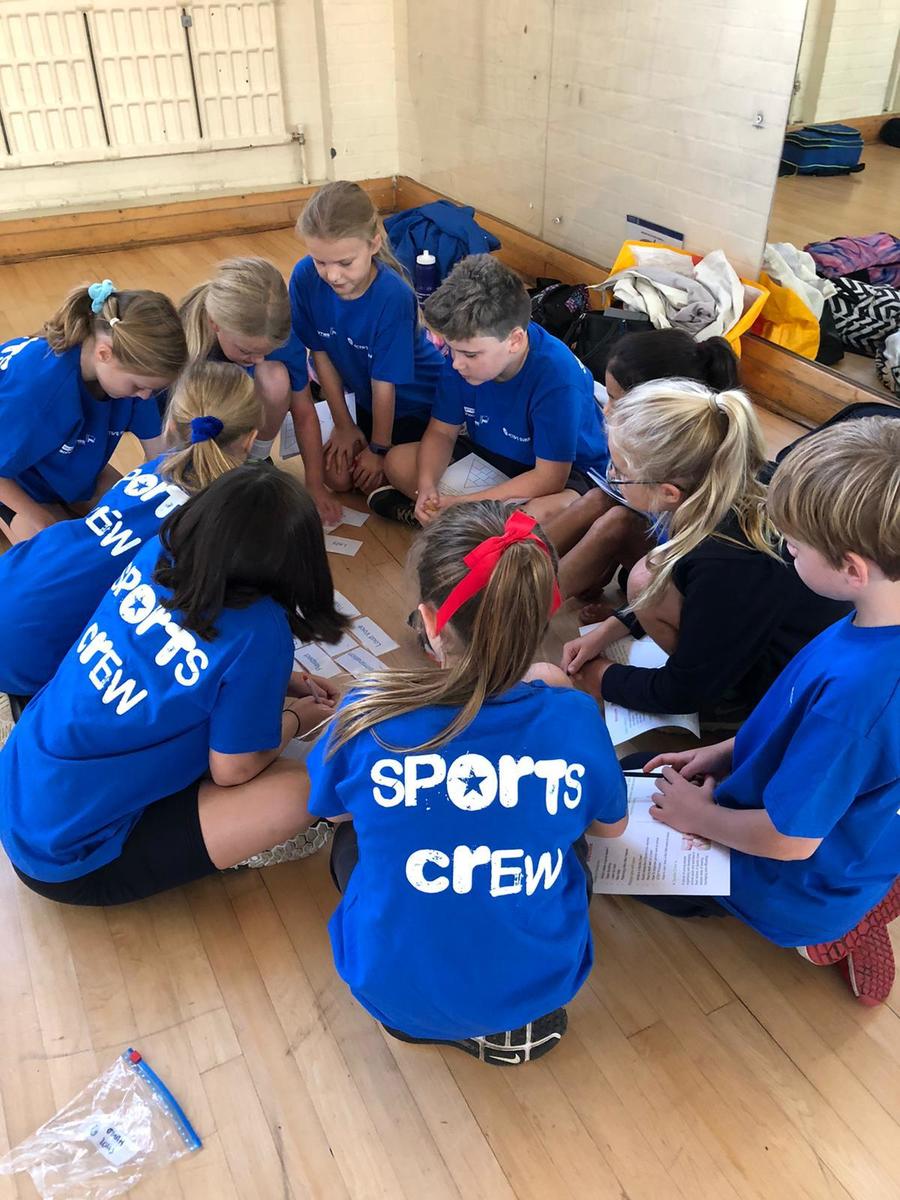 Girls' Football at Cranleigh by Jessica
On Monday 7th October, some Year 5 and 6 girls went to Cranleigh to play a football tournament. There were two teams. Team 2 lost their first match 2-0 but team 1 won 2-1! Next, team 2 had a break but team 1 was still on - they won 1-0. It was team 1's turn to have a break and to cheer on team 2. They were losing 1 - 0 but then Sophia got a great goal to level it. Sadly, Cranleigh immediately got another goal so they ended up losing 2-1. Then it was WSG against WSG. In the first half team 2 had the possession but they never scored. It was just corner after corner. In the second half, it was a bit more interesting. Team 1 scored 3 goals and the end score was 3-0. Team 2 was playing their last match and they were determined not to lose and they didn't! Though they didn't win either - it was 0-0. Team 1's last match was to find out the winner. Both teams had won all of their matches. Cranleigh got a 1-0 lead at the start but that didn't stop us. We quickly got a goal and equalised. In the second half, we got another goal WSG won 2-1! Then finally what we had all been waiting for the results. WSG team 1 came first and team 2 came 4th. Everyone had so much fun despite the rainy weather and we all want to do it again!
Year 6 netball review
by Kiki, Annabel and Isabelle
On Wednesday 2nd October, some of the Year Six netballers went to a match at Glebelands. We played against Park Mead, St Cuthbert Mayne and Cranleigh Primary. The score against Park Mead was 9-1 to us; it was AMAZING. We have improved a lot over a year and were amazed that we won! The next match against Cranleigh Primary we won again 3-2! The last match was against Cuthbert Mayne. Would we win this… WE WON, 5-0. It was really fun and we were resilient throughout the game. Our advice to you is to keep on going when your losing and be determined - hopefully win!
Football vs Cranleigh Primary
A close match, eventually losing 7-5. Well played everyone!
Match Report - Netball vs Tillingbourne by Katherine Wilson
On the 2nd of October, a mix of girls from Year 5 and Year 6 of WSG played a netball match against Tillingbourne's netball team. With impressive scores, WSG won 7-1 on both matches! During the match, our teamwork and determination abilities were put to the test. Even though we were losing at points, we fought through and we won the match. Thanks to our use of the values of encouragement, friendship and personal best.
Fun at Cross Country!
What a brilliant Cross Country event we hosted at WSG on Thursday this week! It was wonderful to see such a huge number of Year 3s and 4s running, all finishing the course and some fantastic sprint finishes too! Our new Y5 Sports Leaders were superb at marshalling and cheering on, and also thank you to staff and parents who stayed behind to help with the event.
In Y3 the girls were outstanding, with all of the top 4 going to WSG! Lily came first, Molly second, Ellie third and Hope fourth. The Y3 boys saw excellent performances from Rupert (2nd), Harry (4th) and Frankie (5th).
In Y4, Ethan stormed to victory to defend his title from last year and there were placings for Seb (2nd), Harry (4th) and Joe (6th). The girls race saw Alice coming second, Lily third and Issy fourth.
Well done to everyone who participated in sport this week, showing great sporting values of determination,
encouragement and personal best!
Netball Winners!
A huge well done to our Y5 netball team who played a netball match against St Catherine's on Tuesday and won 5-4!!
Tri-Golf CHAMPIONS!!!
WSG became the champions of Tri-Golf in Guildford and Waverley! They beat a number of other schools, with some great putting and chipping alongside fantastic teamwork and encouragement. Not only that, but our sports leaders were selected to lead the event and did a superb job, scoring and helping different teams. Some more great sporting success - well done everyone involved!
Penathlon
A real success for WSG on Wednesday!
Josh, Archie, Elliot, Ethan, Amelia, Freddie, Ollie, Ava, Amelie and Daniel were a huge credit to our school in a Panathlon competition at Surrey Sports Park. The children behaved brilliantly, carefully listened to instructions and threw themselves into all the sports activities with great enthusiasm. They were rewarded by coming 2nd out of the 10 schools taking part and all received silver medals, in addition to a framed Certificate and team trophy - well done!
Netball vs Park Mead
WSG hosted Park Mead in two competitive matches on Tuesday. The Year 5 team put in an excellent performance, just to be edged out. Well done girls!
Football Friendlies vs Tillingbourne
It's been a busy week of football, with two fixtures for each year group against different Tillingbourne teams on Monday and Tuesday!
As always, we saw great teamwork and determination throughout all of the games.
The Year 3s recorded two wins out of two, the year 4s won 5-4 on Monday, only to just be edged out on Tuesday. The Year 5s had two excellent wins, including a comprehensive 5-0 victory on Tuesday and the Year 6s, playing with one less player for game, just lost out 4-3.
Well done to everyone who played!
Football Winners!!!
An amazing achievement for our footballers today!
Against 12 other local schools, we got through the group stages, winning all 5 games and not conceding a goal. In the semi-finals, it was very tight and we drew 0-0. It went to extra time, where there were still no goals, so it was to be penalties. It went to sudden death and a wonderful top corner penalty from Ewan got us through to the final!
Again, in the final, it was very tight until Oliver cut through on the right and scored a beautiful goal into the top corner.
A wonderful way for our Year 6s to end their time representing the school at football! Lots of very happy faces!
Dodgeball Champions!
Amazing work from our Year 4 dodgeballers to claim victory and win the tournament at Glebelands!! They took the competition by storm to win their matches and come out as champions. Well done Benedict, Sofia, Ethan and Ella!
KS2 Dodgeball!
What a brilliant dodgeball match we had against St Catherine's on Tuesday. Not only did we win every single match (so comfortably, we had to mix teams up) but it was wonderful to see so many different children represent the school. We had around 45 students - excellent to see WSG!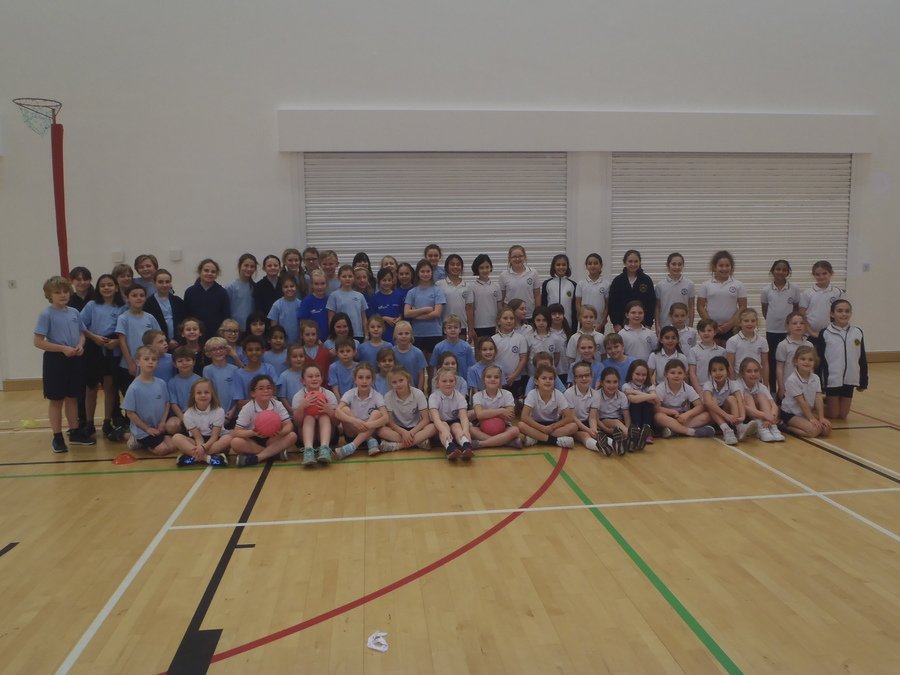 Year 3&4 Girls' Football and Year 4 Boys' Football
What an amazing performance by our Yr 3/4 girls at a freezing football tournament on Tuesday! They absolutely stormed through a really tough group, which had a number of very large schools. The highlight was a 4-0 victory over Chandler. We got through to the semi-finals, where a very close game ensued. It went to extra time, where with the very last kick of the game, WSG got the goal to send them through to the final! Unfortunately we just missed out against a very strong Tillingbourne team. However to come 2nd/10 is testament to a wonderful performance and brilliant commitment shown by the girls - well done!!
The Year 4 boys also competed, with a number of Yr 3 boys helping out. There were some very tough-fought matches and great improvements shown throughout. Well done boys!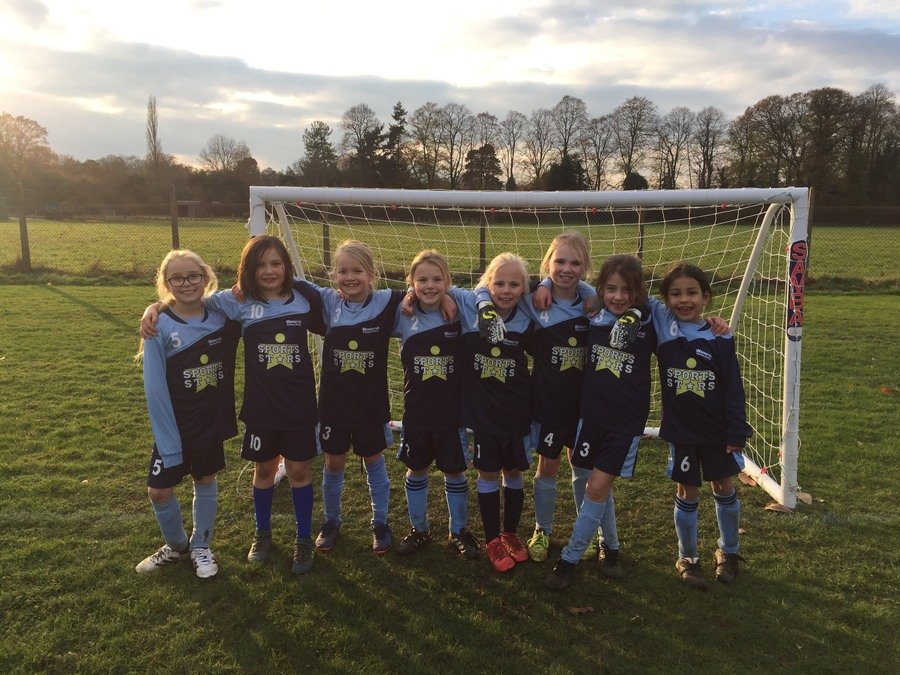 Year 5/6 Netball
Well done to our netball girls who got better and better as the tournament went on!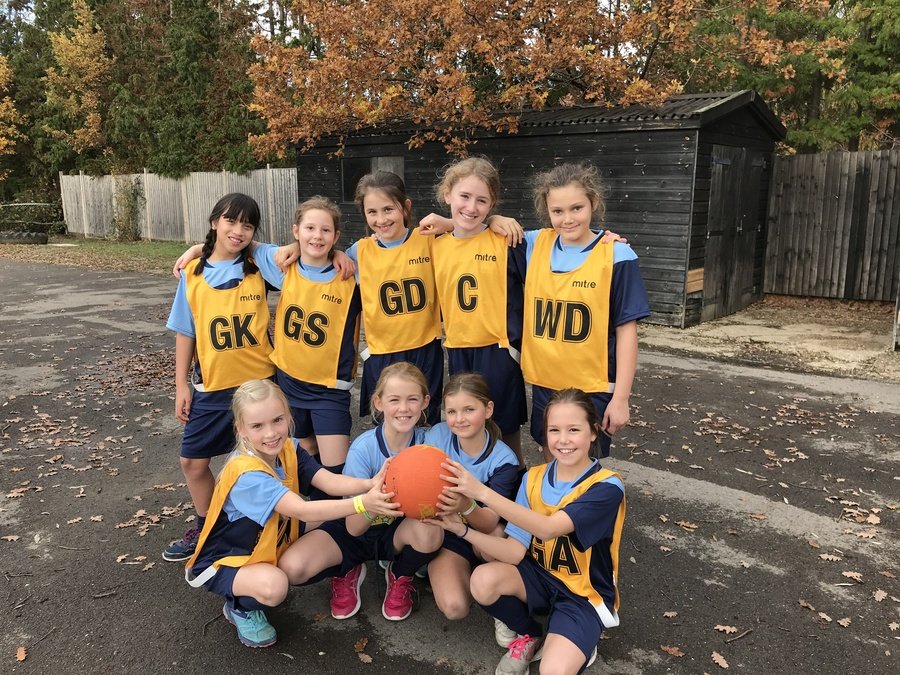 Year 5 and 6 Indoor Cricket Tournament
We had a brilliant afternoon of cricket! It was a pleasure to take all of the team, who showed superb enthusiasm and quality of play. We bowled well and batted very solidly. A great performance to win the game!
Year 3 Boys Football Tournament
What an incredible performance from the Yr 3 team in the tournament at Tillingbourne on Tuesday! With 12 other schools competing, many much larger, we played some lovely football in the group stage, not conceding a single goal and going through as runners up to the semi-finals. Here, despite playing a very good team, we got our one chance on the break and Aston scored to send us through to the final! Unfortunately this was one step too far and we just lost out by one goal. However, to come 2 / 12 was a fantastic achievement.
Never before has a WSG team ever got to the semi-finals of an A Team tournament, never mind the final, so we are extremely proud of the boys who went - very well done!!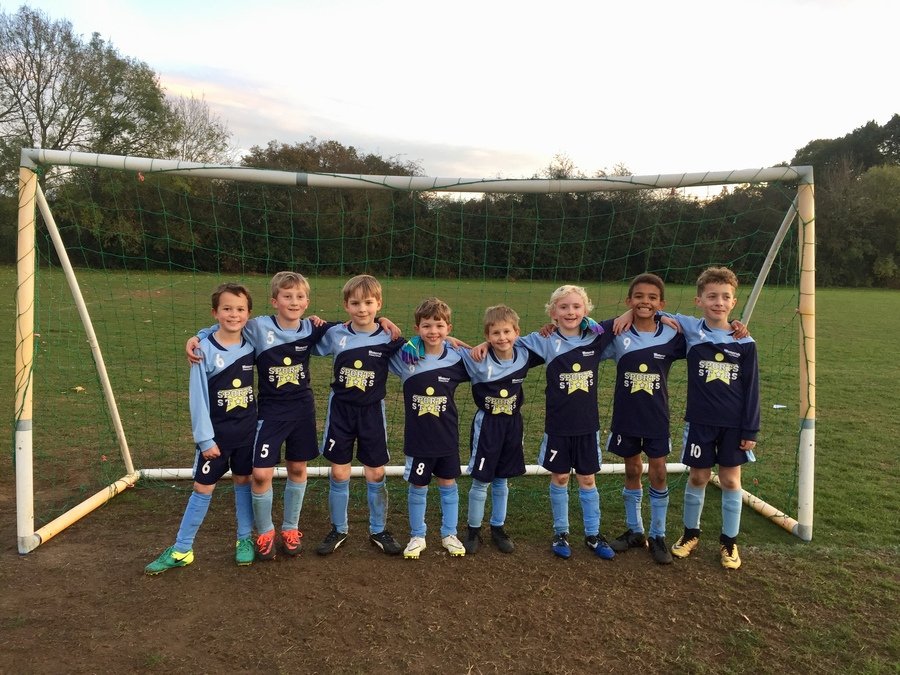 Year 5/6 Girls and Boys Football Tournament
On Wednesday it was the turn of the Year 6 boys football team (plus a few year 5s) and the Year 5/6 girls. The boys tournament was extremely competitive and our team matched their opposition, dominating matches and playing some great football.
The girls showed incredible enthusiasm and when they won their first game, the celebrations were huge!
Well done to everyone who has participated in sports events this week and represented the school so well.
Year 4 and 6 Hockey Tournament
On Tuesday afternoon, both Year 4 and Year 6 took teams to play hockey against a number of other schools. It was great to see the positive attitudes and determination throughout. Thank you to Miss Green and Mrs Prior for supporting the children at this event.
Year 2 Football Tournament
It was lovely to see our Year 2 team compete in their first school tournament at Longacre. Despite the tough competition, they secured a win and draw but most importantly for children of this age, they had huge smiles on their faces throughout! Thank you to Mrs Heard for accompanying them.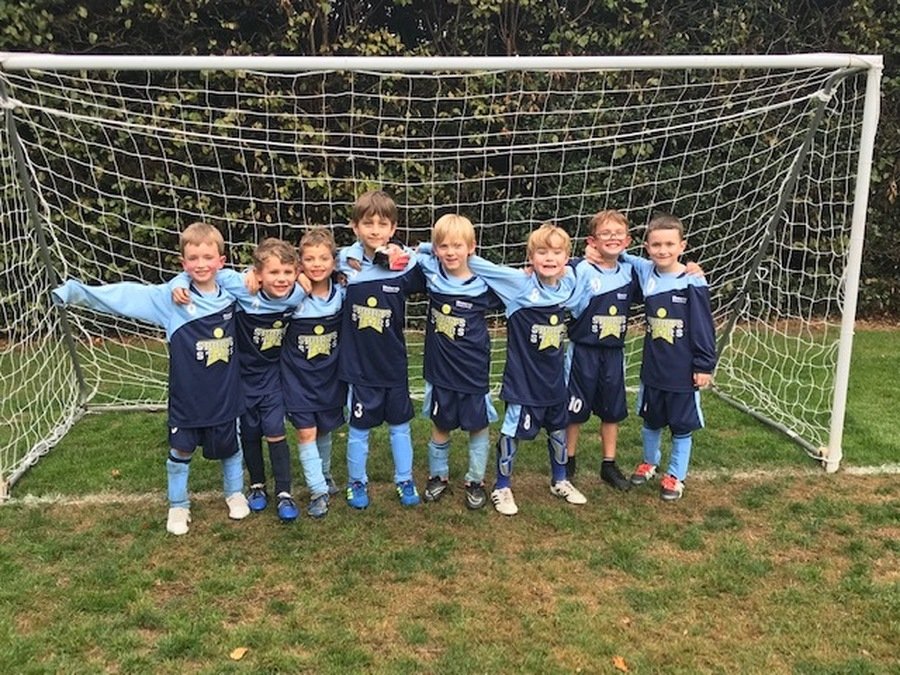 Physifun Training
On Monday, 12 Year 6's went for Physifun training. This is a scheme which aims to encourage children to be active through a variety of lunch clubs; the year 6 children will begin running clubs after half term.
Cranleigh Junior Parkrun
Well done to the children (and parents!) who braved the rain to go to Cranleigh Junior Parkrun on Sunday! It was lovely to see some WSG present and past representatives there. Well done to Emily (Yr R), Abbie (Yr 1), Alice, Flo (Yr 3) Matthew (Yr 5), Sarah, Phoebe, Alexei and Eddie (Yr 6) and ex pupils Luke, Joe and Finn.
Remember, it happens every Sunday so do go along (especially if put off by the rain today!).
Cross Country vs Tillingbourne
We had a brilliant cross country competition against Tillingbourne School on Thursday. Over 100 children competed, showing determination, resilience and best of all, the smiles on faces showed how much they enjoyed it! WSG got three victories out of four - Lily (Yr3), Ethan (Yr3), and Ella (Yr4). Well done everyone who competed! Also thank you to sports leaders and staff who very successfully marshalled the event.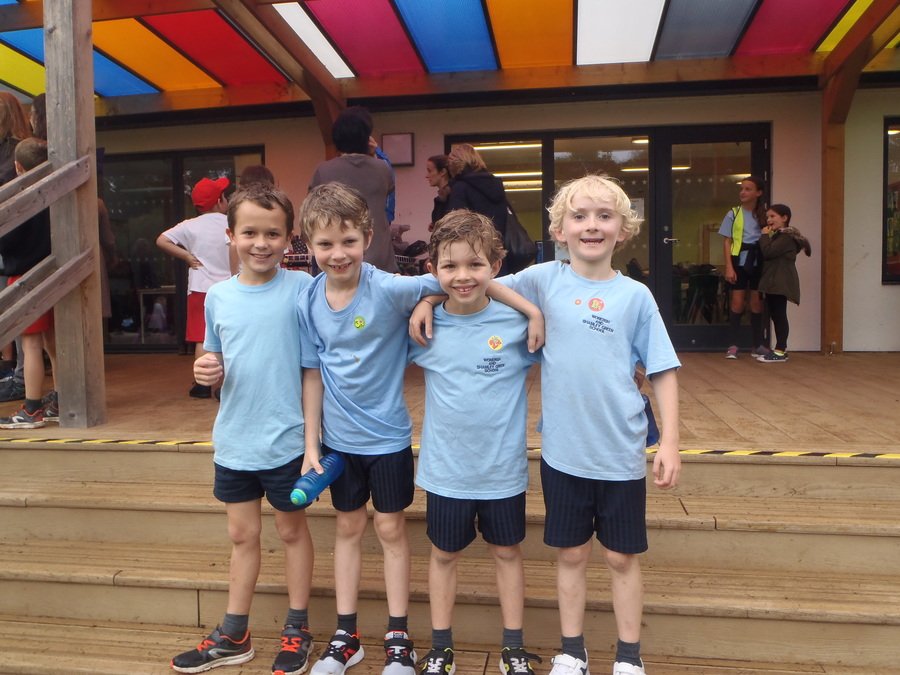 WSG vs St Cat's - Girls Football
WSG year 4 girls (plus Jessica Stone) had a brilliant afternoon playing football against St Catherine's on Tuesday. Some of our girls played against a Year 4 St Cat's team where they unfortunately lost, but got better and better as the game went on. The rest of the Yr 4s, captained by Jessica, played against St Cat's Year 5 team and played superbly to record an incredible 7-1 victory!
Even more important, they get the award of the most sporting and polite children at a sports event in recent memory. Well done girls!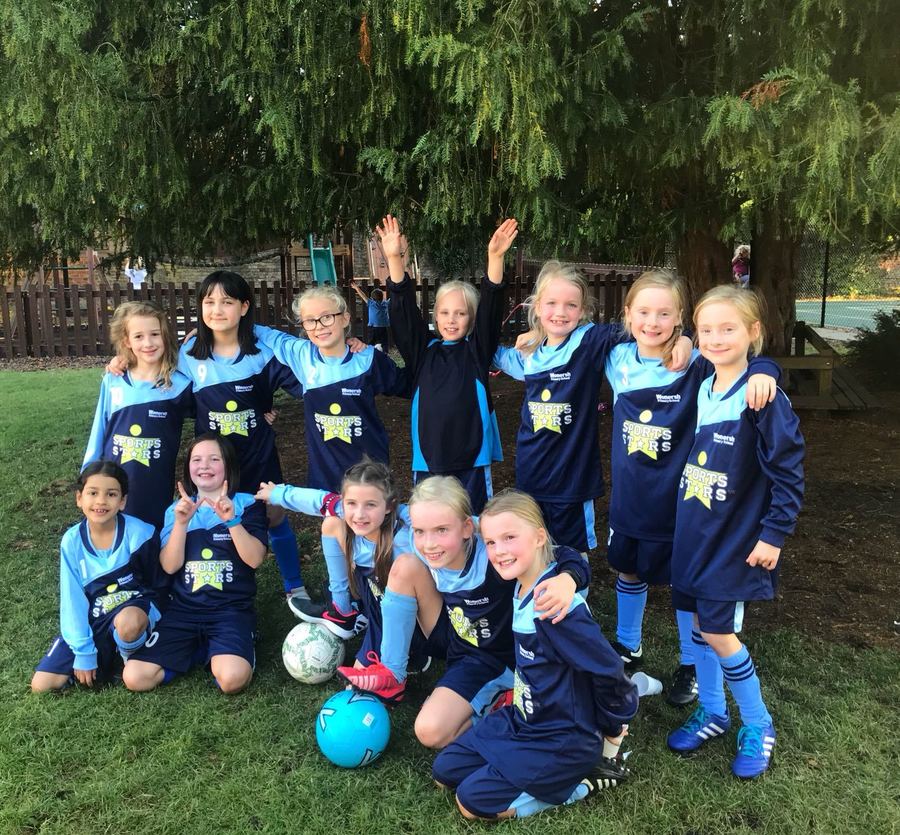 Champions of Dodgeball!!
Two teams of Year 3 and 4 children did brilliantly at the dodgeball tournament on Tuesday. One team played really well throughout, showing great sportsmanship.
The other team beat everyone to come away with the trophy! Not only did they dominate every other team, they also played the 14yr old Broadwater sports leaders and won that game too!!!
Well done all who participated!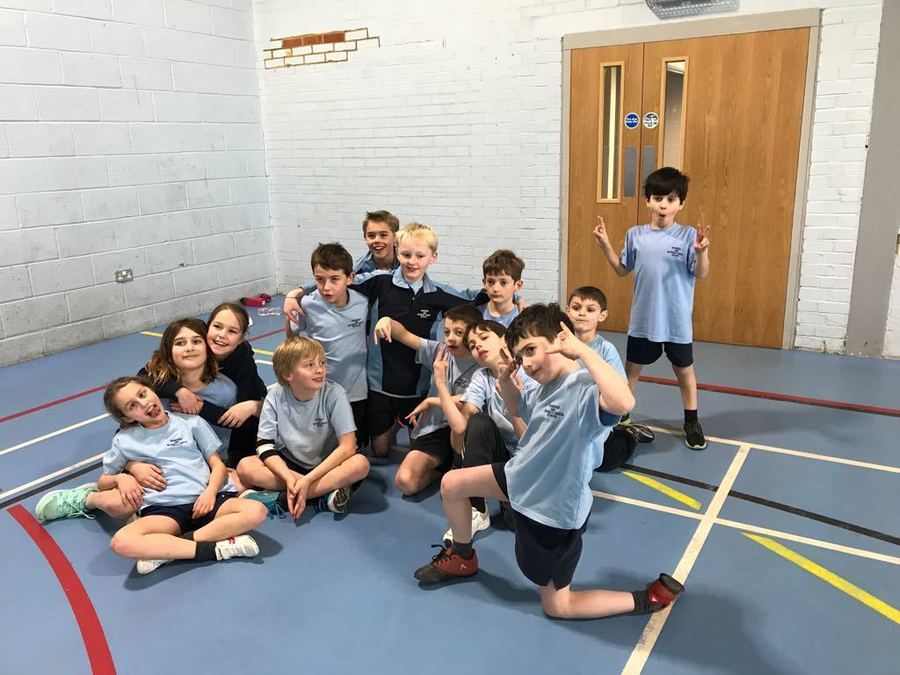 Dodgeball Tournment success!
A superb performance from Year 6 boys saw them come second out of eight in a dodgeball tournament this Tuesday! The boys all showed great skill and determination to win their group, before victory in the semi-final ensured a final against Chandler, where they were just beaten.
A brilliant result to come 2nd!
Football at Tillingbourne.

Both Year 5 and 3 football teams did WSG proud at a football tournament against a number of other schools! Lots of great play, some brilliant victories and hard fought draws. Both teams secured third place. In addition, the four boys in Year 2 who represented the Year 3s all put in brilliant performances, as did Harry and Ollie with the Year 5s.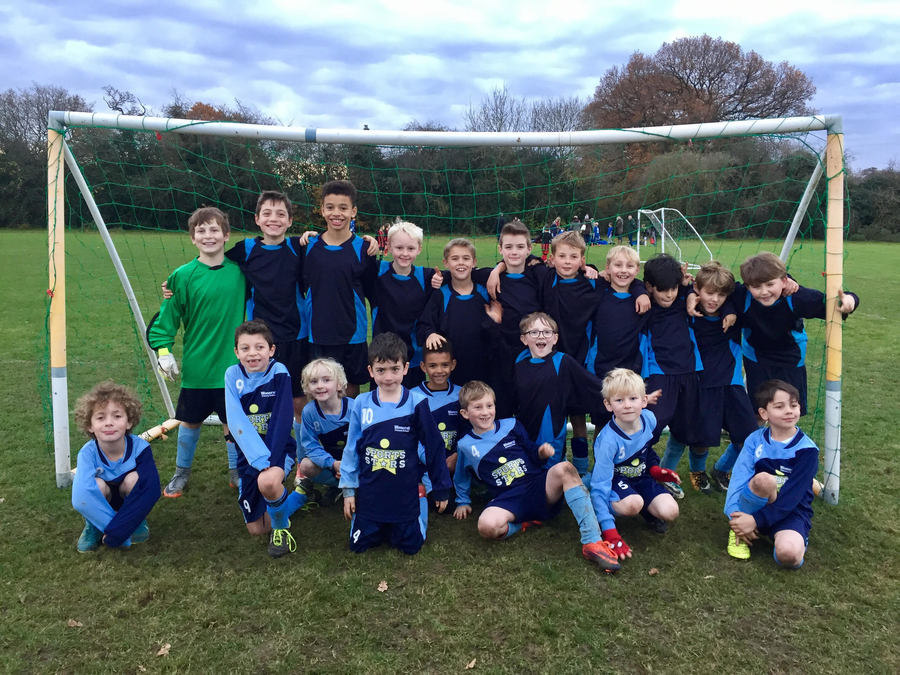 A clean sweep of victories over St Catherine's!
Some superb team play saw the Year 3, 4, 5 AND 6 teams win their dodgeball matches against St Catherine's. Over 40 children represented the school successfully - brilliant performances all around!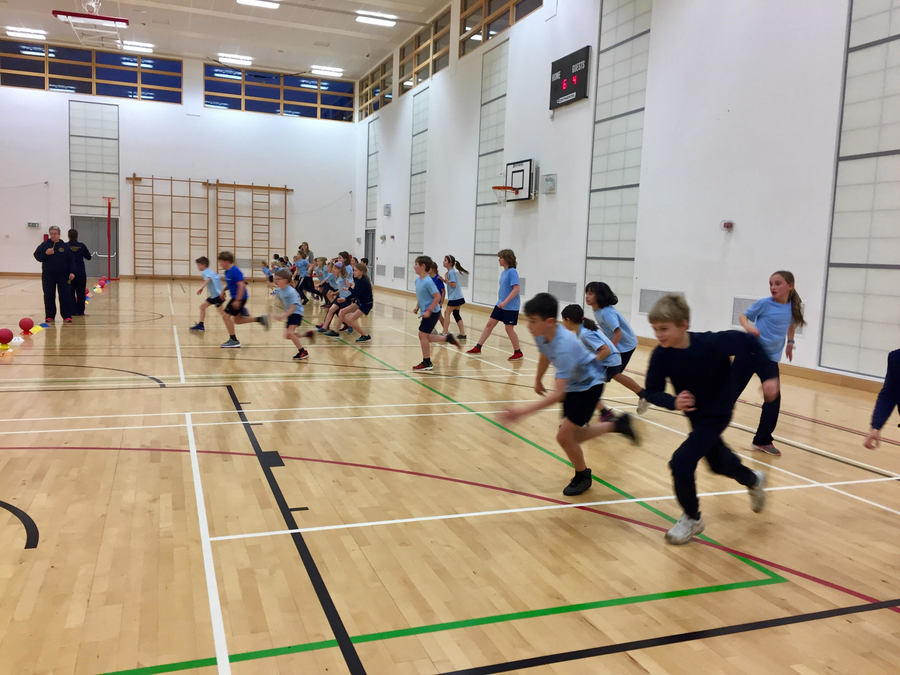 Swimming Gala
The KS2 swimming gala was a real success!! We have moved up the leader board since last year. The children had
such great attitudes, lots filling in for the older year groups; all really performed above expectations. Well done swimmers!
Year 5/6 Girls Netball
A great effort from our girls, many of whom participated in their first ever tournament - they gave it their all!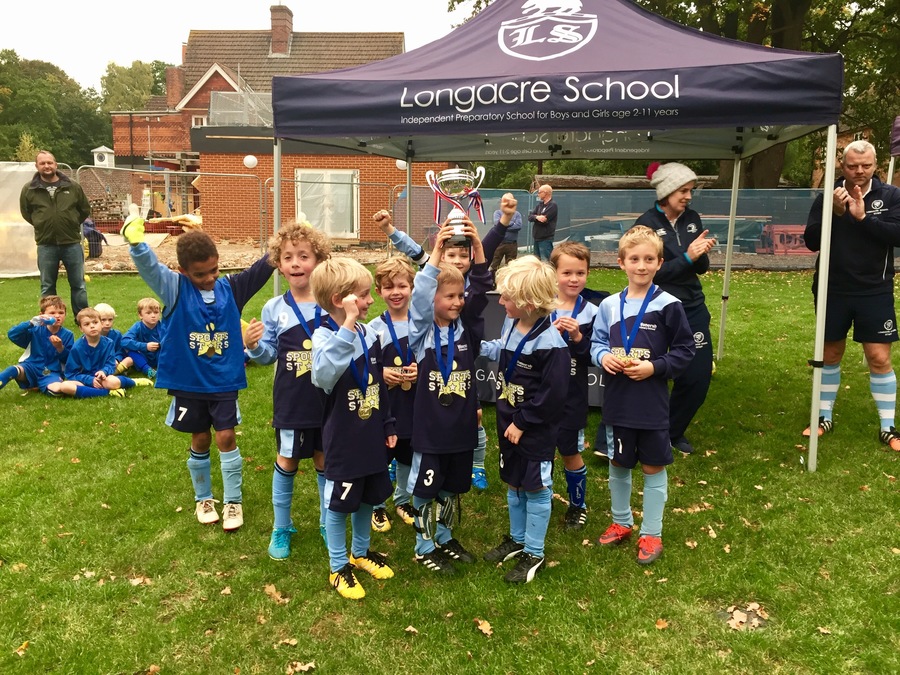 Year 2 Football Tournament
A wonderful performance from the Year 2s saw them claim victory in a tournament against a number of schools - there was so much skill, teamwork and sportsmanship on show. Well done boys!!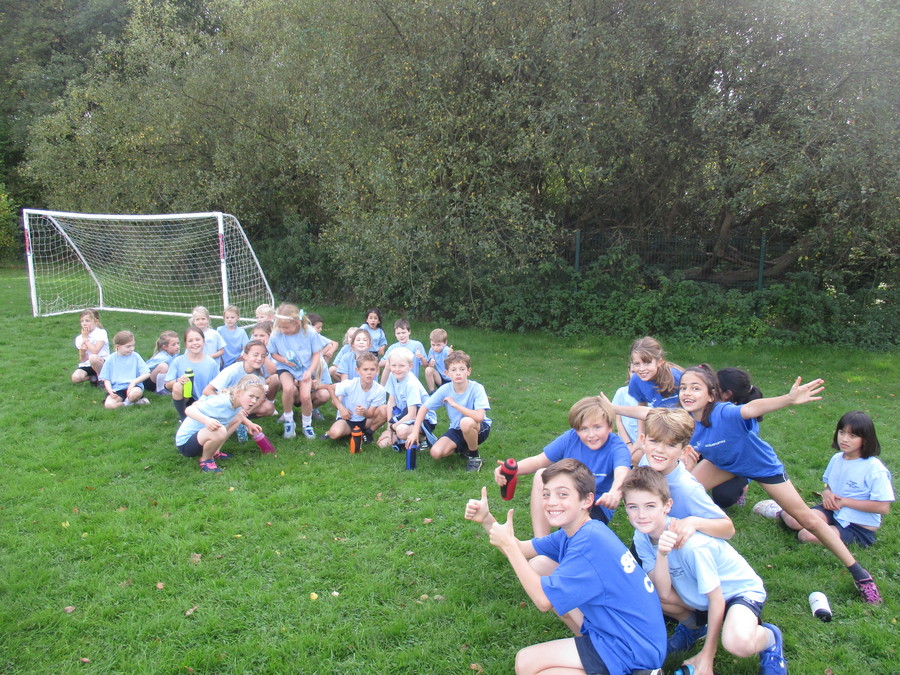 Cross Country vs Tillingbourne
A superb, friendly and sporting cross country event saw nearly 60 Year 3/4 children competing! WSG won the girls Yr 3 race with Ella coming in 1st. Both Year 4 races were also won by WSG - Harry and Jessica claiming victory!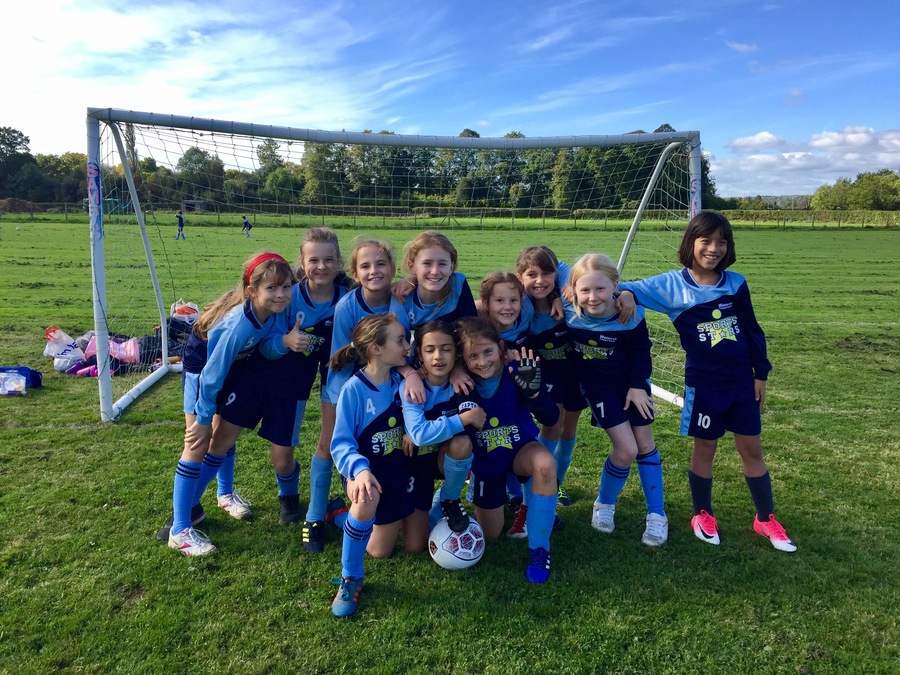 Year 6 Boys and Year 5 Girls Football Tournament
WSG Girls Football Tournament
Eleven year 5 girls were invited to a year 6 football tournament taking place at Tillingbourne school. Everyone played really well and the girls that went (Evie, Perla, Abigail, Charlotte H, Sarah, Aiste, Sophie, Millie, Amy, Phoebe vB and our great captain Charlotte U) each played their part really well.
It was a seven a-side tournament and we managed to get the ball on to the other side of the pitch a couple of times but sadly we didn't score a goal! Unfortunately, we came 4th out of our group. "Our team played really well, we tried our hardest and that's what counts most" Charlotte U, Team Captain.
In the end, Chandler won fairly and we all realised that it doesn't matter about winning, it's the taking part that counts.
Written by Charlotte Uddin & Phoebe van Beever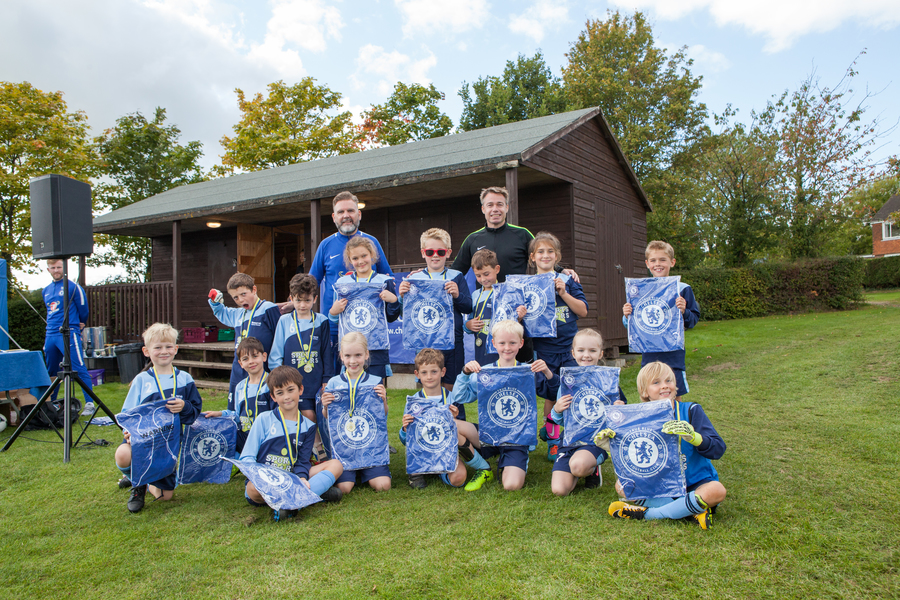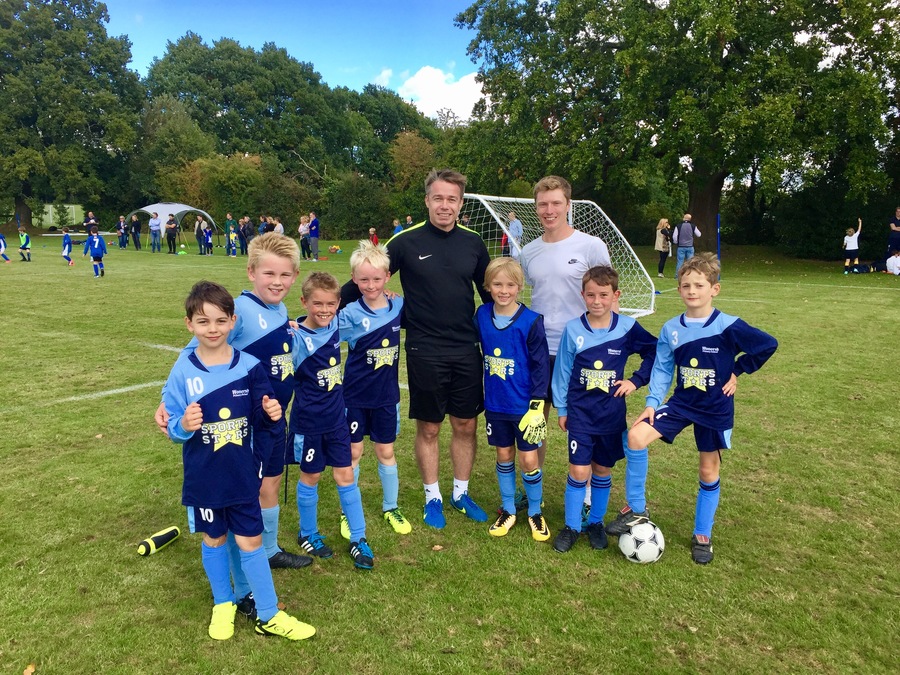 The exciting football festival at Cranleigh Prep! By Ollie M and Harry W
On Friday 22nd September, two teams from WSG went to Cranleigh Prep School to take part in a football festival. We arrived, very excited, and took our place in the hall. Following a welcome speech from the headmaster, we were treated to a Question and Answer session with ex-England and Chelsea footballer, Graeme Le Saux. There was even an amazing question from Ollie M about Leicester, which Graeme enjoyed! We then had a delicious, huge lunch, before the football tournament began.
WSG 1 had some tight matches to start with. We really got going in the final three matches, where we won two and drew one! Harry scored all four goals, and there were some great saves from Judah. WSG 2 showed great teamwork and determination throughout, in what was a first tournament for many of them. We even had to play each other at one point! A very close affair saw WSG 1 just secure a win by one goal.
We had a great day at Cranleigh Prep!
Spectacular Football Friendlies!
What a brilliant afternoon had, playing football against Tillingbourne School. This was a chance for lots of children to experience inter-school competition.
And they all did themselves proud!
Year 3: 4-2 (Harry with all 4 goals!)
Year 4: 5-0 (Oliver with 4 goals)
Year 5: 1 - 3 (Thomas with a great goal!)
Year 6: 6-0 (What a result!)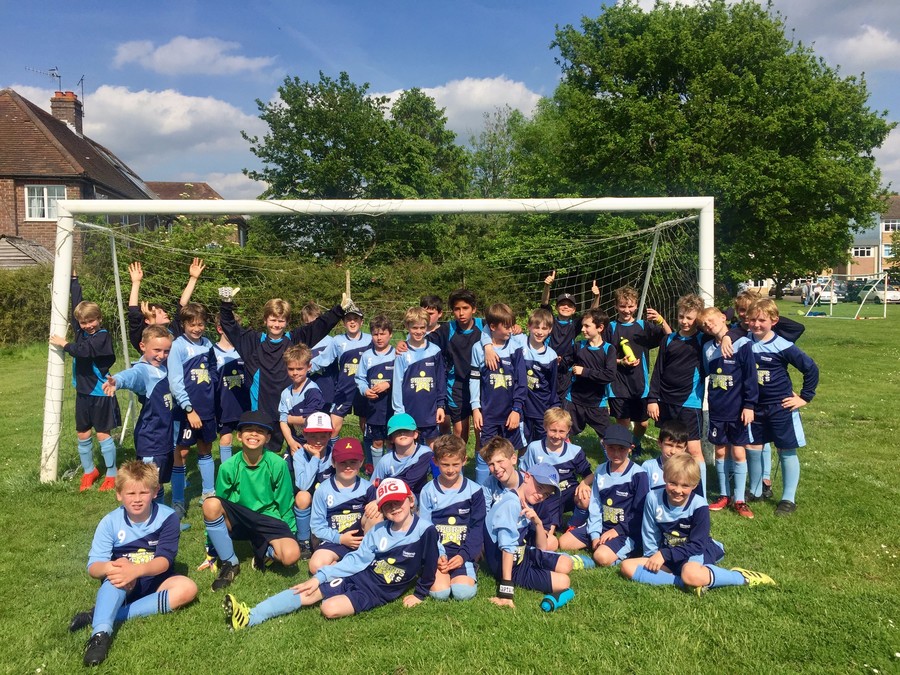 Cricket Tournament
We took boys and girls Year 5/6 cricket teams to compete in a tournament against other schools. Many of the children had not played cricket before, and performed valiantly! Great sportsmanship and encouragement was shown throughout - well done WSG!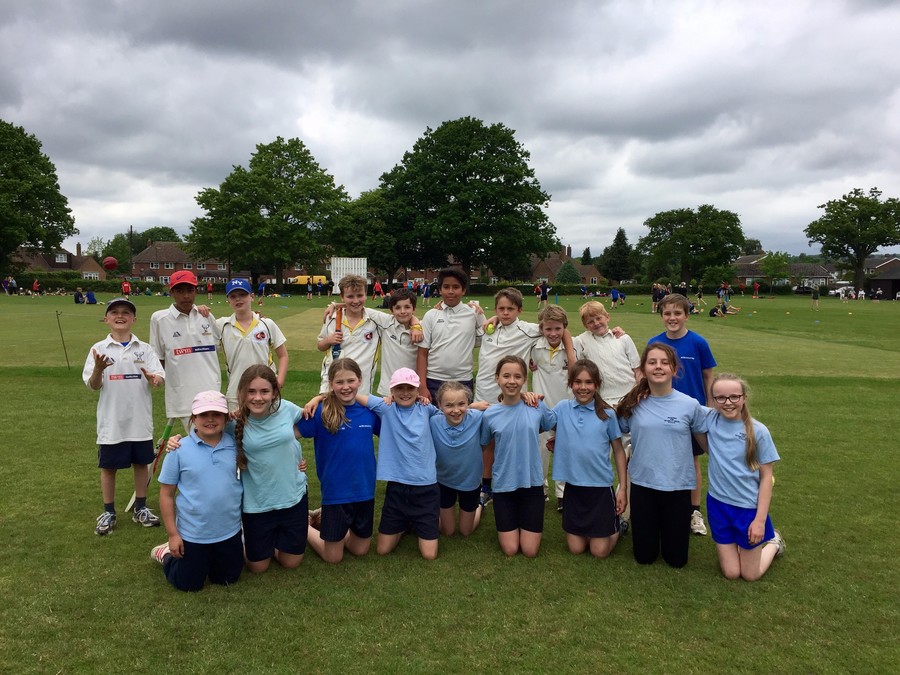 Futsal Tournament by Michael and Sujeen
Futsal
Wonersh & Shamley Green went to a Futsal tournament at Broadwater. The people who competed at this tournament were Michael, TJ, Luke, Sujeen, Alex and Grace. This tournament was a great experience for our team. We tried our best and played well. At the start we were a bit shaky but we had our confidence boosted by a great level as we had great sportsmanship and courage (this led us further into the game).
WSG didn't have a great start against Chandler A's by losing our first match by 1-0. The next match was a struggle as we still couldn't find the back of the net and losing against Northmead 3-0.
However, WSG came to their best against Chandler B by beating them 3-1. We made it to the 3rd place and 4th place off. We were against Chandler B which we beat so Wonersh & Shamley Green were confident when we went into this game. After a great effort, WSG won the match 2-0 which made them get the place of 3rd .
Goal Scorers :

TJ (2) Sujeen (2) Luke (1)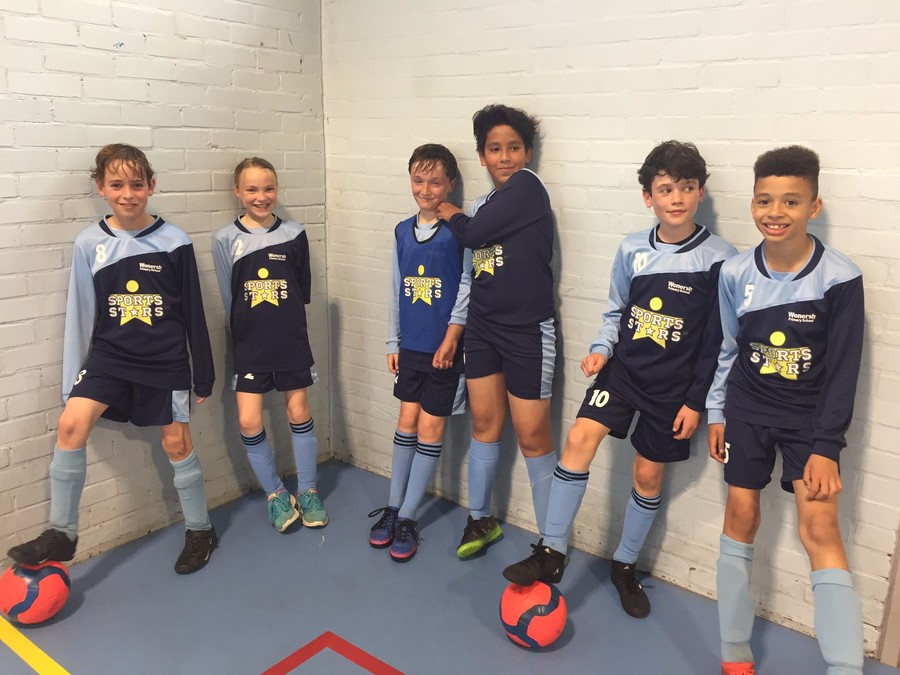 Dodgeball vs Cranleigh Primary
Lots of children had a go at playing in a dodgeball match this week. There was superb enthusiasm, sportsmanship and great performances all round.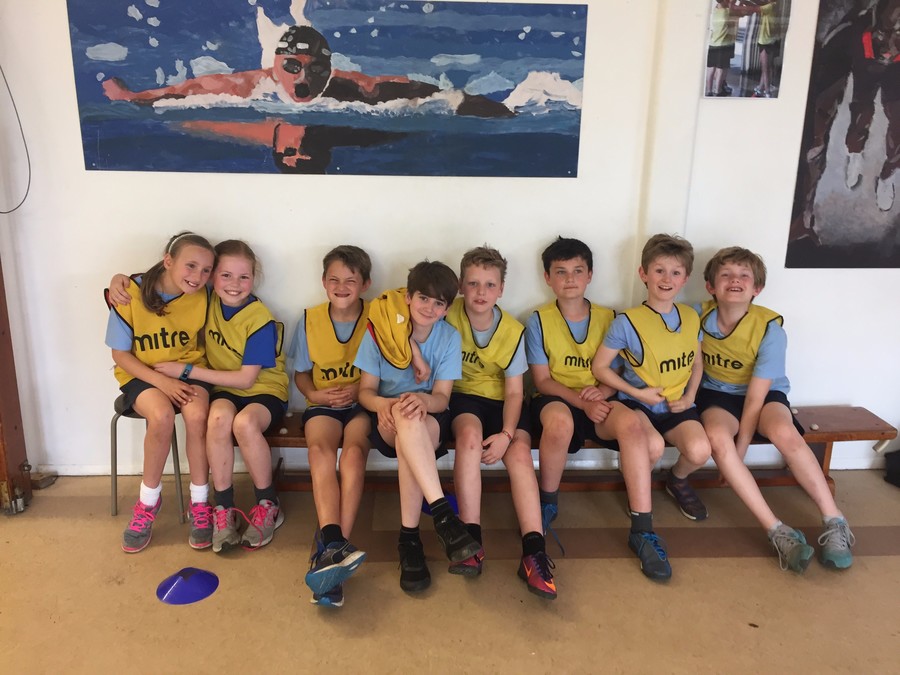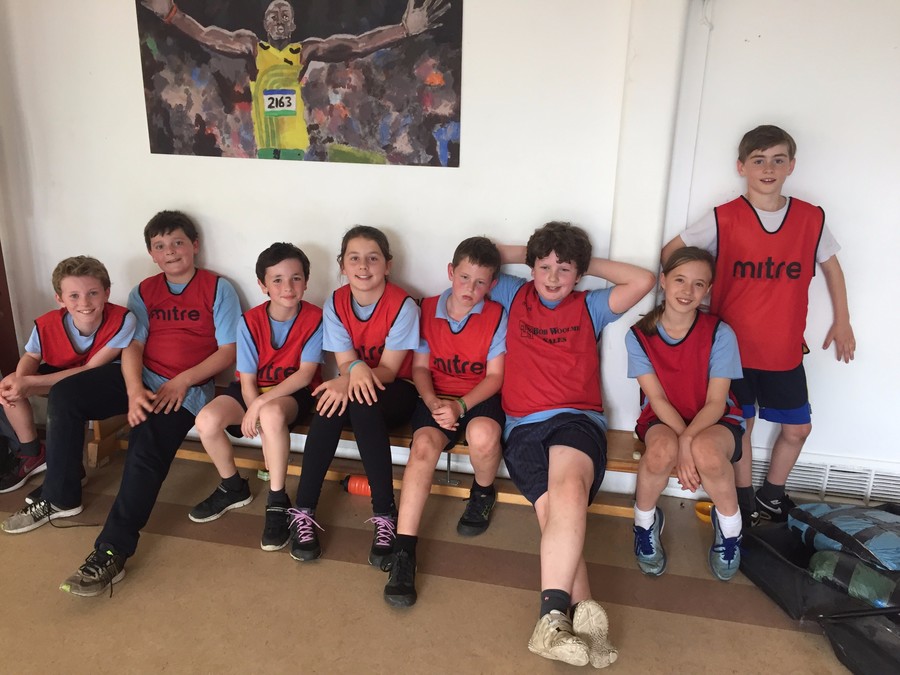 Skipping Day!
Each year group got a special skipping workshop, before showing off their skills to the rest of the school at the end of the day. Everyone has now caught the buzz, with skipping taking over the school playground!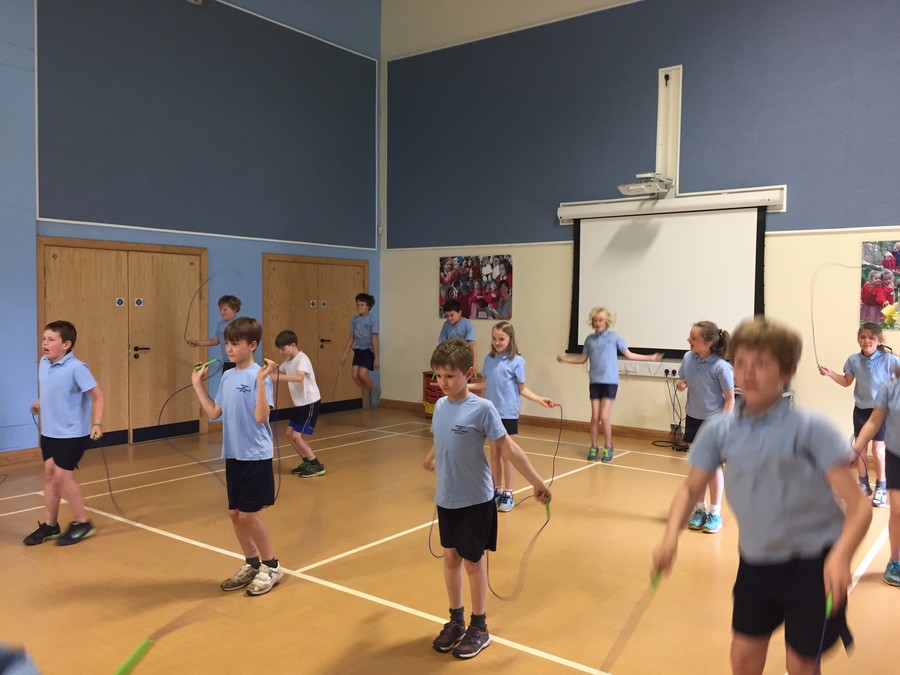 Year 3/4 Boys and Girls Football Tournament
A brilliant display from both our boys and girls! Incredibly, both teams made it through their groups to the semi-finals. The girls excelled in a wonderful 5-0 victory vs Cranleigh Primary, before winning 2-1 and 1-0 to top the group. The boys won two of their three group stage games, including a superb 4-2 comeback victory vs Chandler. The boys were edged out in the semis to a strong Tillingbourne team.
The girls managed to win their semi to get through to the final. Sadly, they came across a very strong team to finish runners up. But what a brilliant performance from both teams, who were very proud of their efforts!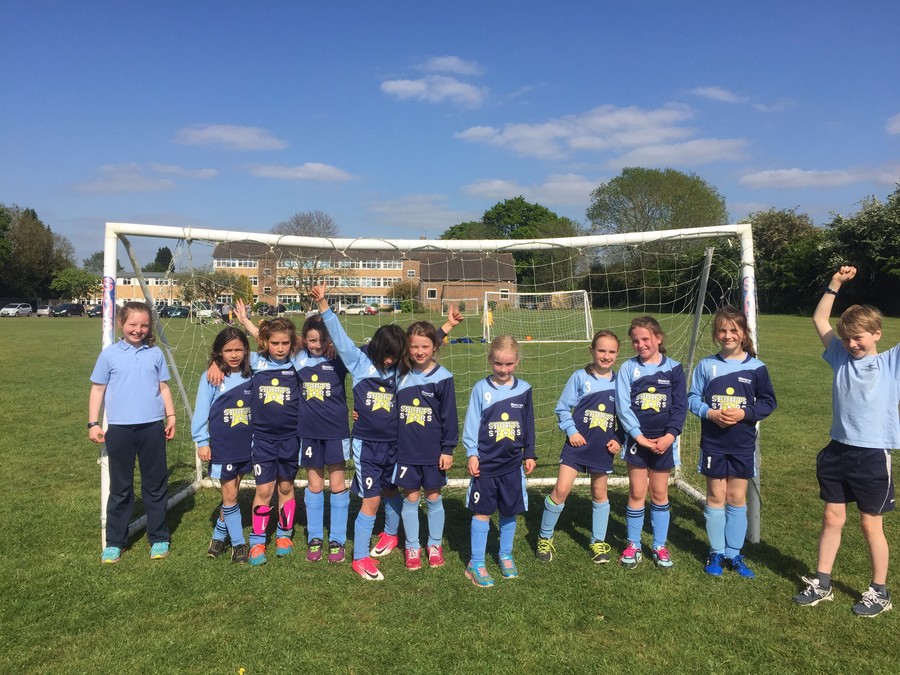 The Golden Game BY RORY AND ALEX
WSG under 10's (with Louis, Michael and Harry T) traveled to Cranleigh Primary school to play a football friendly. The team was: Alex(C), Jonty, Rory, Luke, Michael, Louis, TJ, Harry S, Harry T and Joe. Cranleigh kicked off to let the game commence. We had a good start but unfortunately we let in 2 goals in quick succession.
Alex told us to keep our heads held high and to just try our best. What he said really helped us; TJ scored from a long range effort and Alex, 5 minutes later, scored a golden goal from the halfway line just like David Beckham did for United. A few minutes later, it was halftime and Mr Wiselka told us some negatives and positives.
2nd half - We played some great football and created lots of chances but we couldn't score. We had a great attack and then one of their defenders decided to punch the ball away; our penalty! Harry T took it and…. Smashed the ball into the back of the net (3 - 2 to WSG).
Unfortunately, we gave away another goal from a goal hanger, that was the last goal of the game. Both teams then had lots of chances and Louis smashed the ball wide to end the game. FT 3 - 3.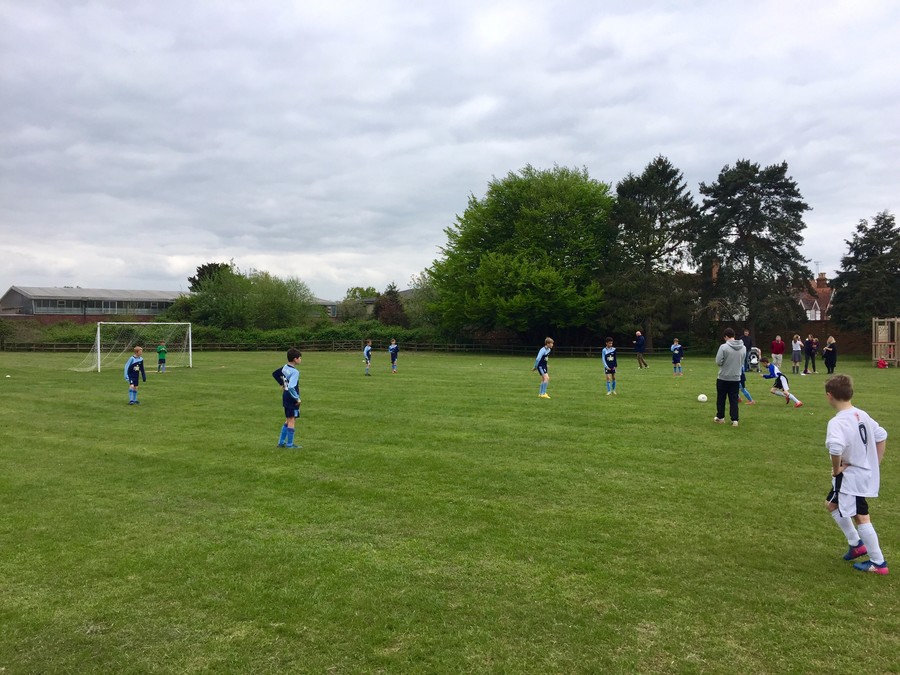 KS2 girls football vs St Catherine's
We staged two matches involving 25 of our girls, which is fantastic to see! Not only that, four of the Sports leaders, Harry, Rory, William and Luke coached and refereed the matches.
The Y3/4 girls had an extremely close encounter, eventually losing 4-3.
However the Y5/6 team put in an incredible performance to come out as victors, 2-1!!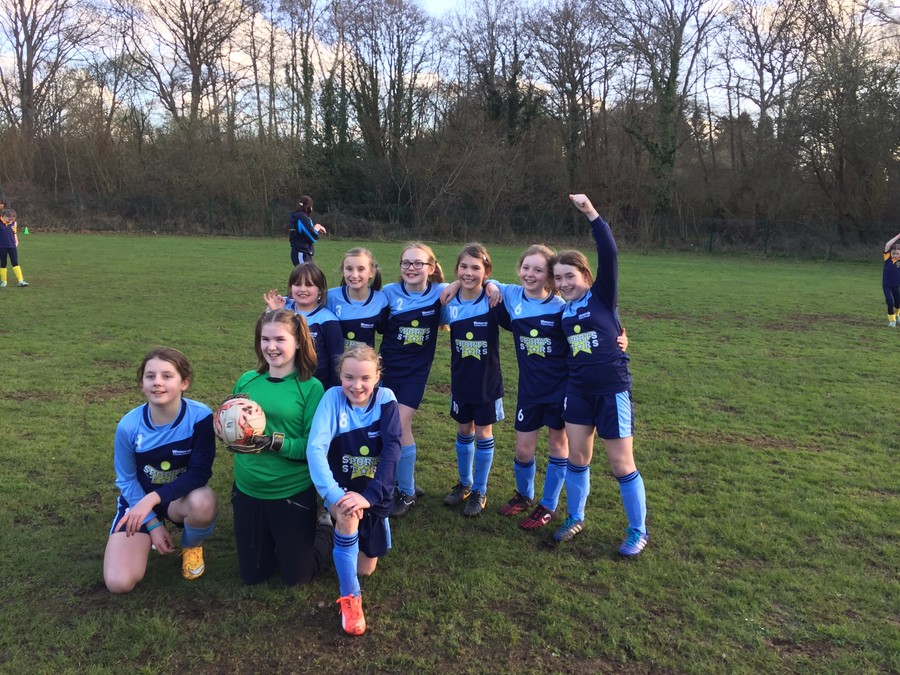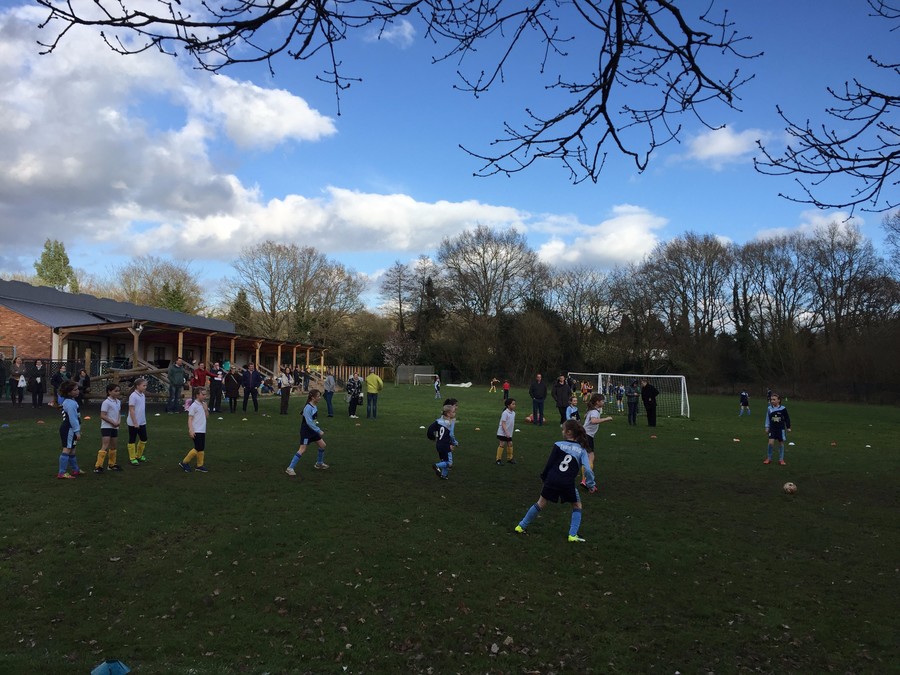 Year 5 Netball
Our Year 5 girls did themselves proud in a netball tournament at St Catherine's School. They came second in their first ever matches - well done girls!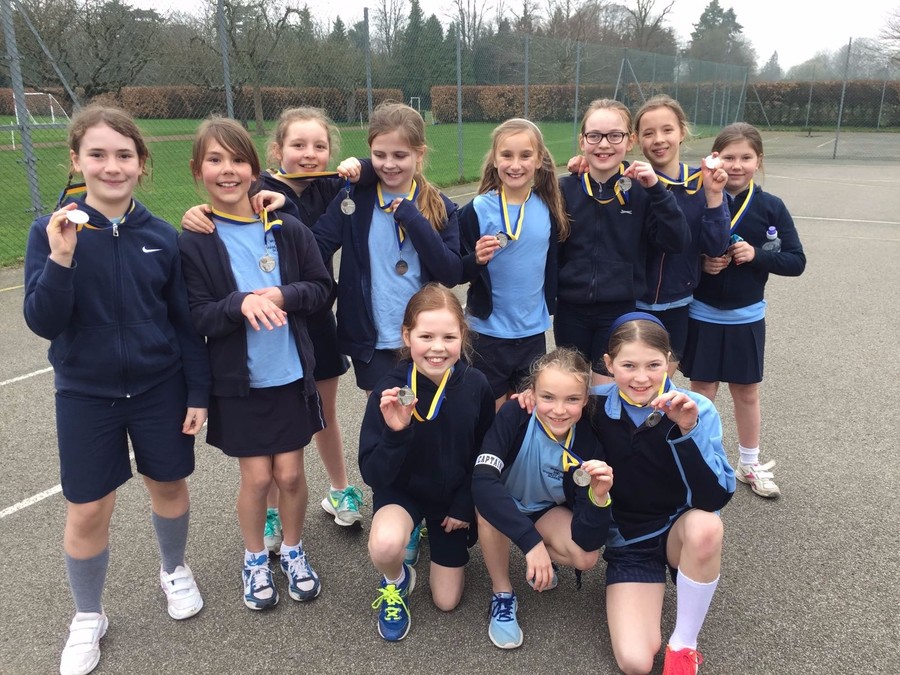 WSG champions!!! By Henry and Sujeen
On the 9th of March 2017, WSG football team competed in a football tournament at Tillingbourne school. When the team arrived, they were split into an A team and a B team. Most of the team probably thought that this would be another loss but they did know what was in store for them...
The A team included:
Sujeen; Michael; Louis; Luke; Harry S; TJ; Alex; Henry.
As many hours went on, the A team played and conquered many teams without conceding one single goal. This meant that WSG got through into the semifinals, beating 6 other teams along the way!
WSG A Team came second in the group stage; this meant that WSG moved onto the semi-finals playing against Tillingbourne School. WSG tried their best, missed a superb one on one opportunity, Harry hit the bar and then Sujeen fired home to win the game 1-0.
They moved onto play in the final against St.James.This was going well for WSG but the score was still a draw.This went into extra time (5 mins). St.James kicked it out for corner Luke went up to take it. Luke crossed the ball into the box and Henry smashed into the bottom corner. WE WON THE TOURNAMENT!!!!!!!!!!
Goals Scored
Sujeen (5), Henry (2), Harry S (1)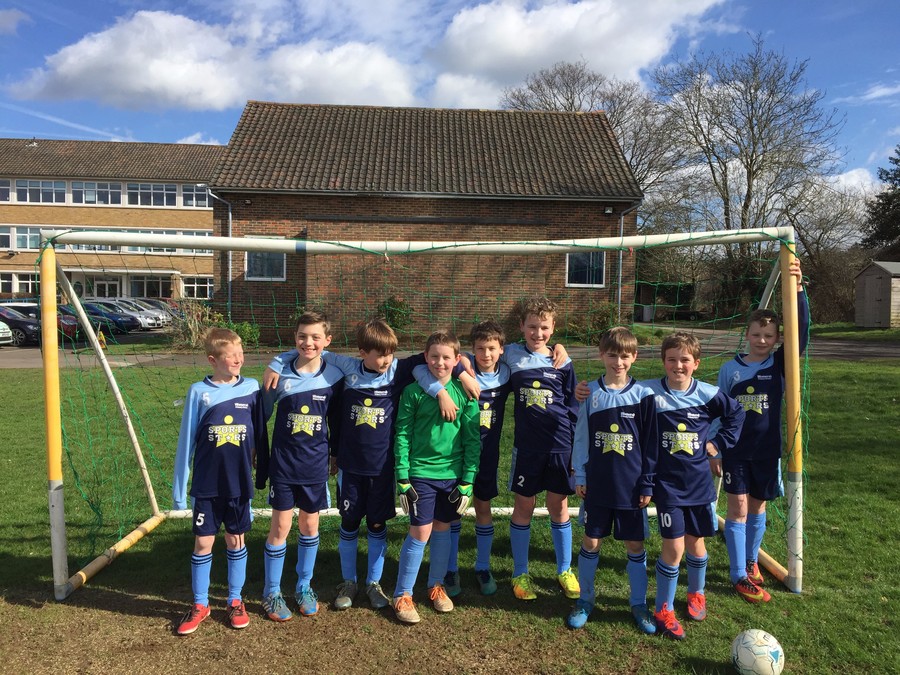 Tag Rugby Year 5/6
We entered two teams into a Tag Rugby event at Guildford Rugby Club. Year 6 found the competition tough but really improved as it went on, with some great tries!
The year 5s were very unlucky to lose to eventual winners Chandler, 5-4, in their first game, but put in a brilliant performances to win their second match.
Flag Football Taster Session
We were lucky enough to win a prize for all of our Run the World efforts!! The children in Years 4/5/6 were treated to a morning of Flag Football, to coincide with the Superbowl. Everyone had lots of fun and learnt some new skills!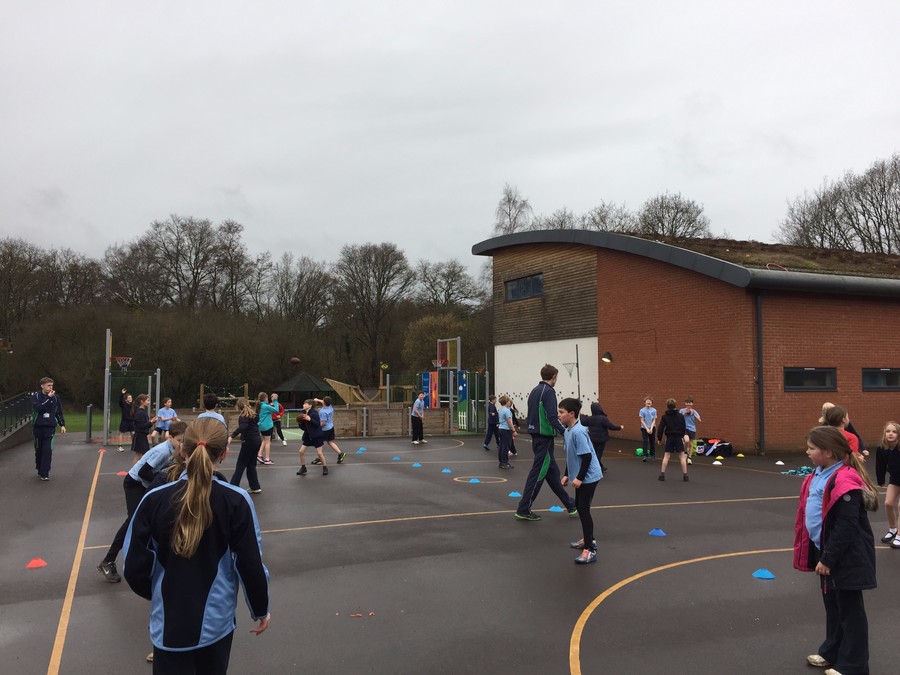 Year 5/6 Girls Football vs Cranleigh Primary
Many of the girls experienced their first taste of football in this brilliantly fought contest - well done girls!
Year 3/4 Football vs Cranleigh Primary
Dramatic match against Cranleigh! By Ollie and Judah
On Monday, Year 3 / 4 had a match against Cranleigh Primary. We had a thorough warm up, until they arrived. The match was always going to be difficult because of the muddy field! There was even a big puddle on the pitch so the ball didn't run smoothly.
As the whistle blew, we started strongly with an early goal from Ollie after a great cross from TJ. We then scored again; a brilliant strike from TJ. However a few moments later, WSG struggled to get the ball clear and Cranleigh nicked a goal: 2-1. We had so many good chances, open goals, but the ball just wouldn't go in! And then out of nowhere, Cranleigh scored two goals just before half time. 3-2.
The second half started well, with lots of chances for WSG, but Cranleigh broke away to score again. Sadly as we kept pushing for another, they scored a sneaky goal on the counter attack, seconds before the whistle.
Overall, a 5-2 loss but a great match! We just need to take our chances and make sure we are communicating well all the time.
We are Running the World!! Every class is aiming to run at least one mile a day to get the whole way around the world. This gives children a break from learning, physical fitness and develops skills such as resilience.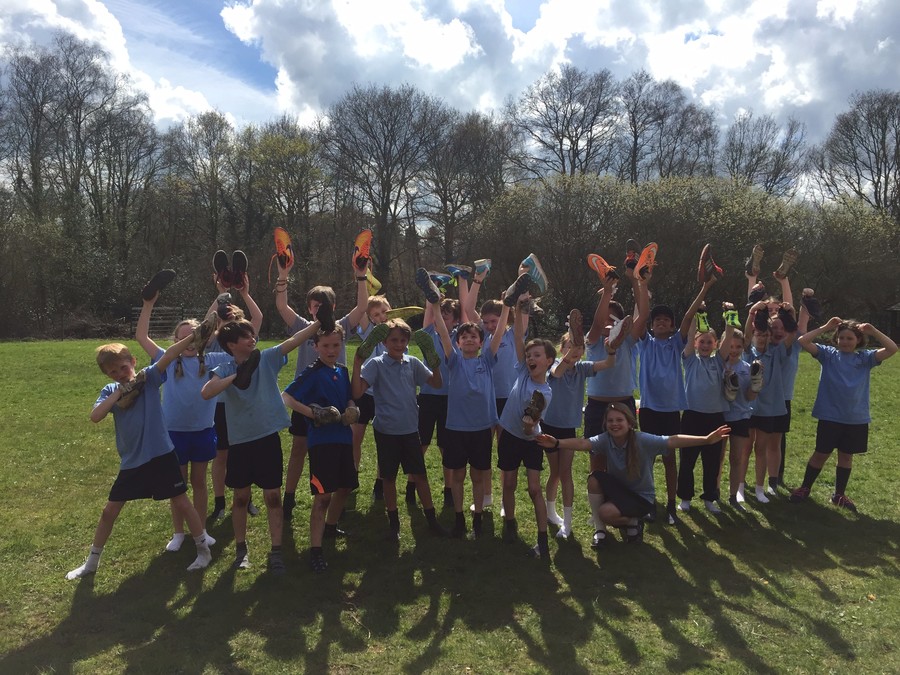 Year 6 Dodgeball Tournament
Our Year 6 team competed brilliantly to come 3rd at the tournament!!
Dodgeball at St Catherine's
A fantastic event saw children from all of KS2 compete. We had two victories as did St Catherine's, so overall we drew. The children especially enjoyed the match tea afterwards!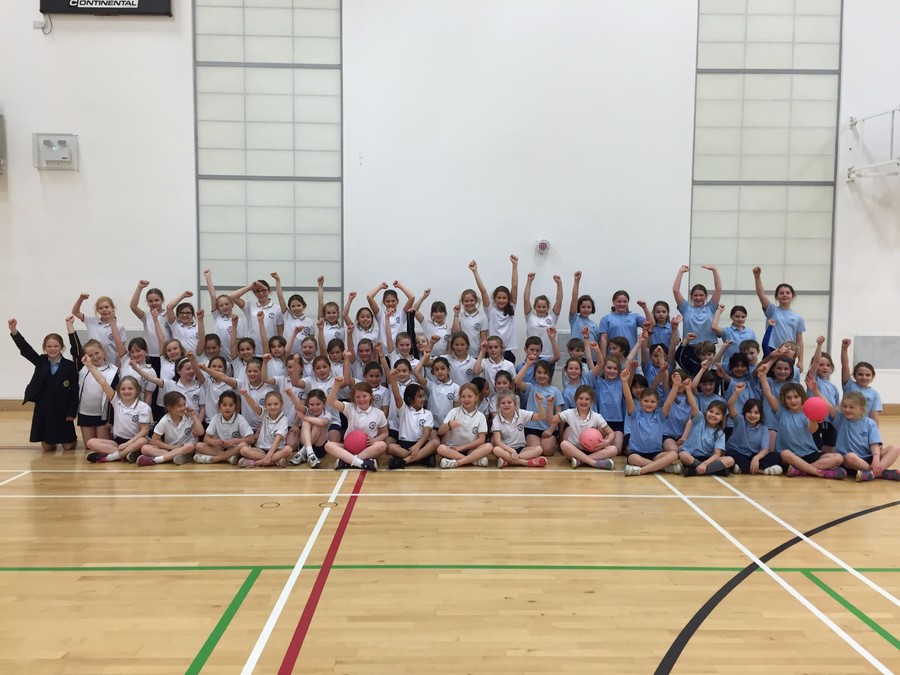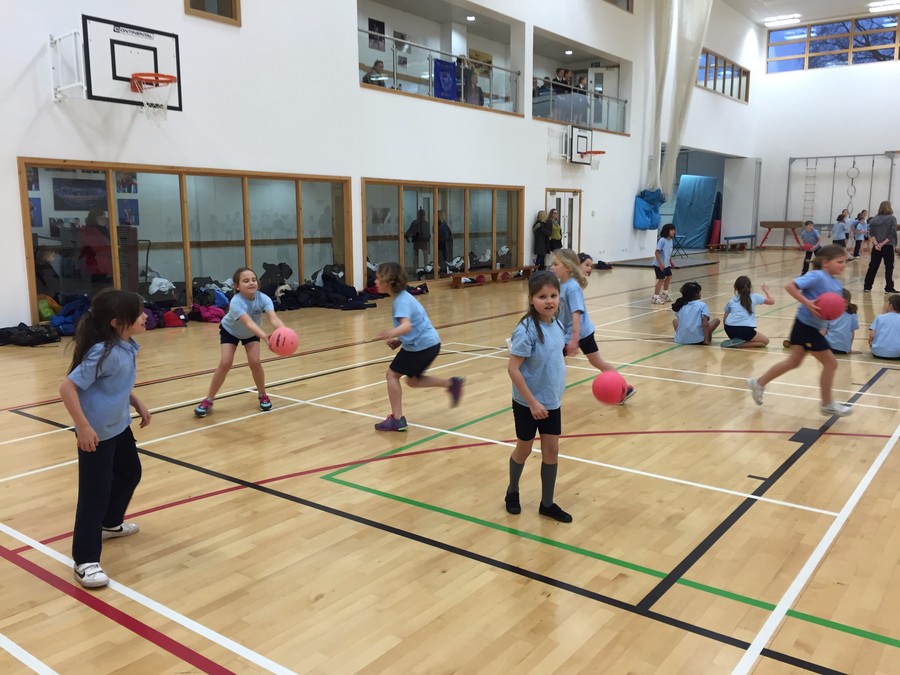 Swimming Gala
On Sunday, many of the talented swimmers at our school took to Cranleigh Leisure Centre to compete against five other schools. We saw some fantastic individual performances!
Year 6 Football match vs Cranleigh Primary
Our Year 6 could be forgiven for thinking the worst after going 3-0 down inside two minutes. However a spirited fightback saw two excellent second half goals and we hit the bar. A 3-2 loss but an excellent performance.
Year 5 Football match vs Cranleigh Primary
The Incredible footie match against Cranleigh! By Harry and Rory
On a very cloudy Tuesday, a team of year 5 (and a few year fours) hosted a football friendly match against Cranleigh Primary. The team for WSG was Luke, Harry, Rory, Jonty, William, Alexander, Finley, Alex, Joe, Jacob and TJ.
The match started well for WSG - after only a few minutes, Luke had smashed the ball into the back of the net! 1 - 0 to WSG!! As soon as we had scored the goal, Alex was saying, "They're going to come back hard on us". He was right because after a lot of passing and kicking, they had equalised the match - 1 - 1.
After that, Cranleigh had their heads high and played their hardest so before we knew it, they had scored again! 2 - 1 to Cranleigh. A few minutes later, the half time whistle blew. Mr Wiselka gave us a few tips and said what we were doing well.
The second half was a bit more exciting Because 5 goals were scored. At the end of the match, Cranleigh had scored three more goals and WSG had scored two. Alexander, our goalkeeper, had produced some great saves, but it still wasn't enough because the opposition had won 5 - 3.
Earlier on in school, Wonersh & Shamley green football team were the underdogs but now we are ready for anything!!
Year 3 and Year 5 Football Tournament
We had two brilliant performances from both teams. The Year 5s managed a superb 3rd place out of 8, keeping up with much bigger schools. The Year 3s won half of their games, drew two and lost one. A fantastic afternoon!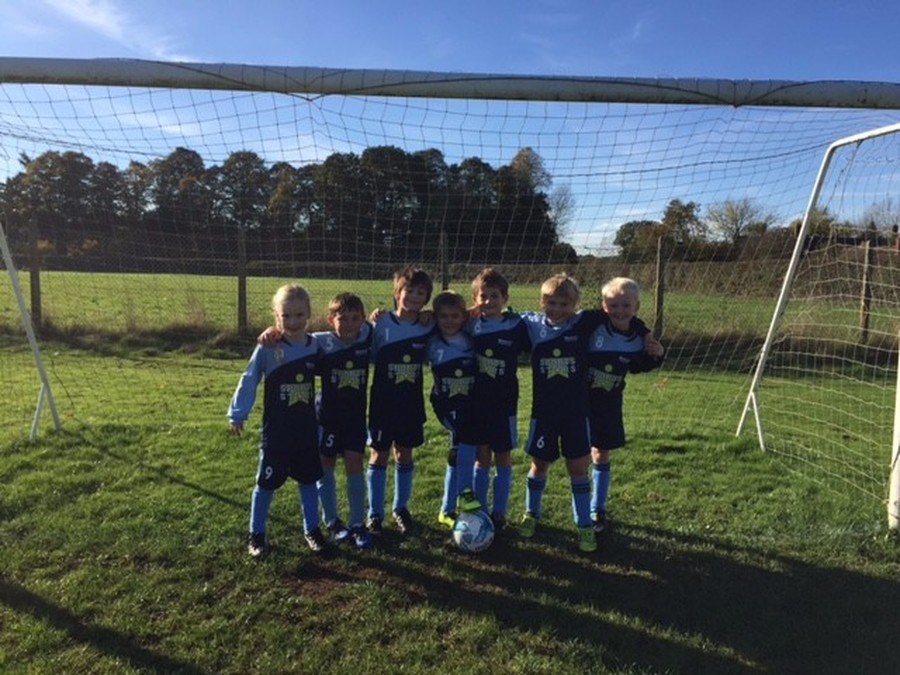 Our new Sports Leaders!
Following successful applications, our sports leaders went for training at Broadwater School. They will be assisting with running clubs, events at school, helping with staff training, organising equipment and matches.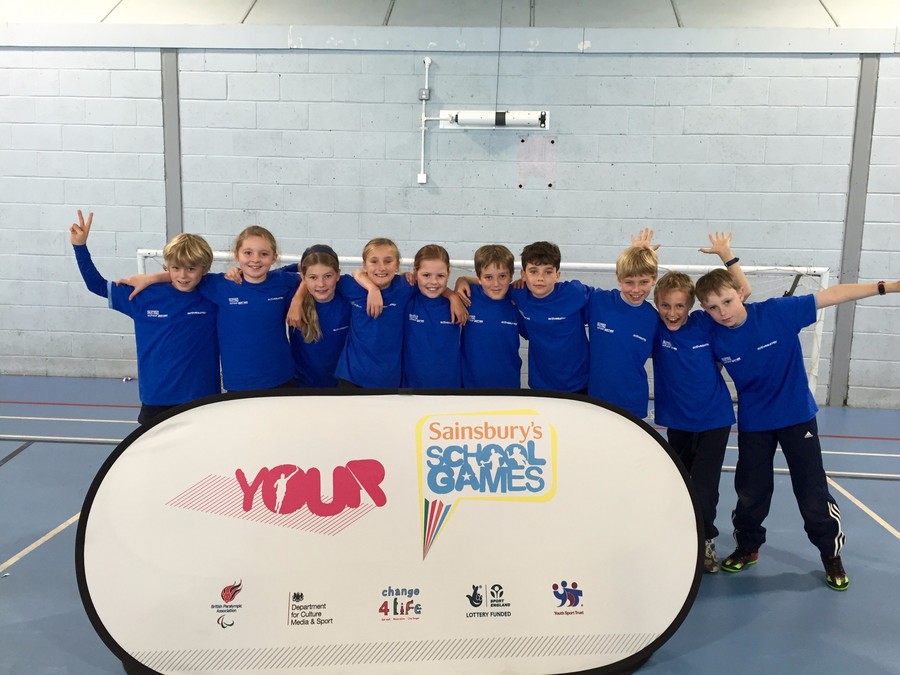 Football Friendlies: Year 3/4/5/6
Lots of our KS2 children went to TIllingbourne to take part in some friendlies. It was great to see children who don't usually compete have a go and do themselves proud! Year 5 were the pick of the bunch, performing excellently with a superb team spirit.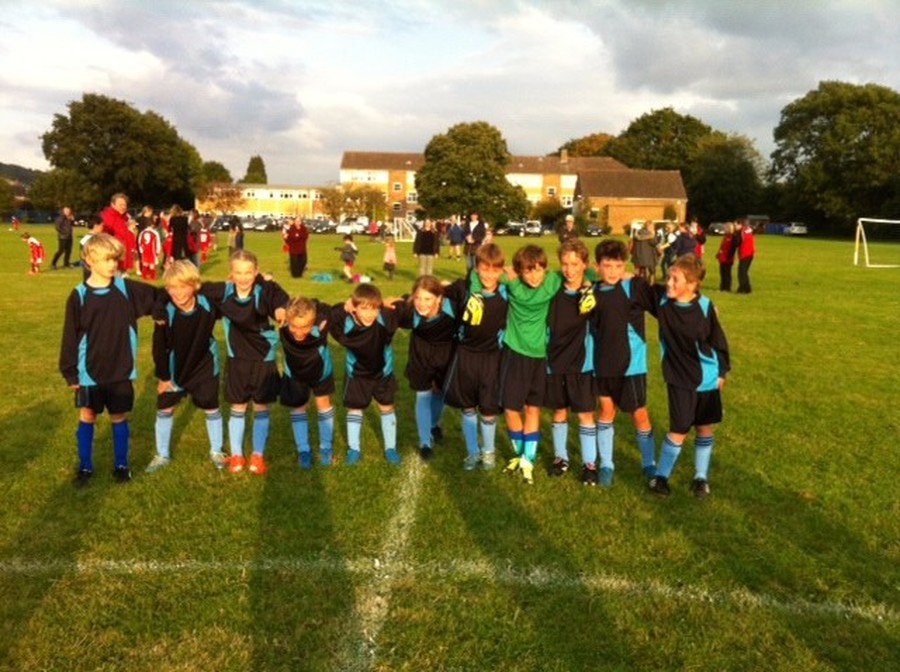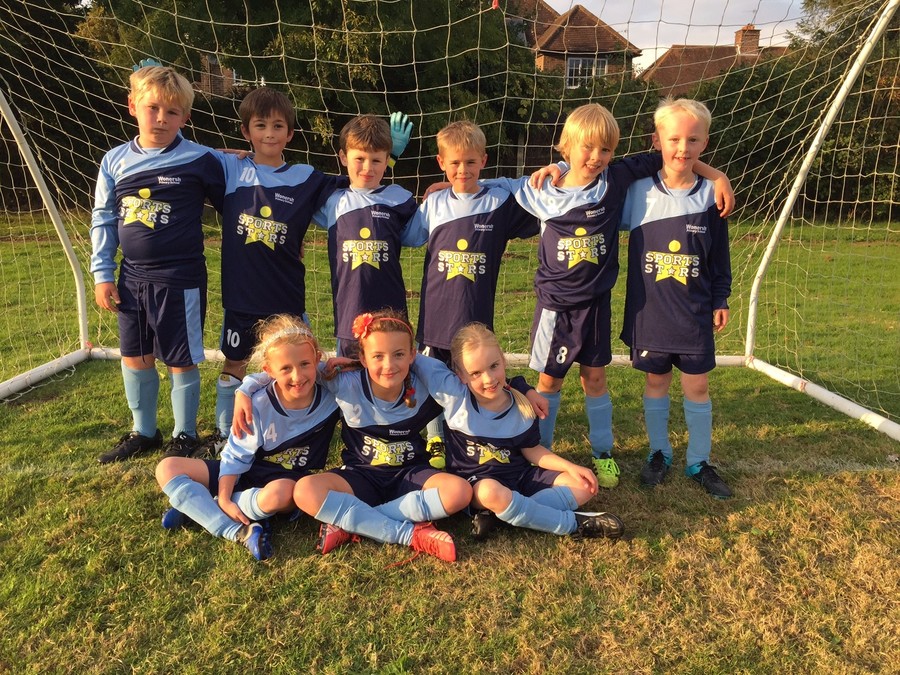 Year 2 Football Tournament
Year 2 went to Longacre for a football tournament. They scored lots of goals and Mrs Trewinnard was extremely proud of them! They came an overall 3rd which was brilliant.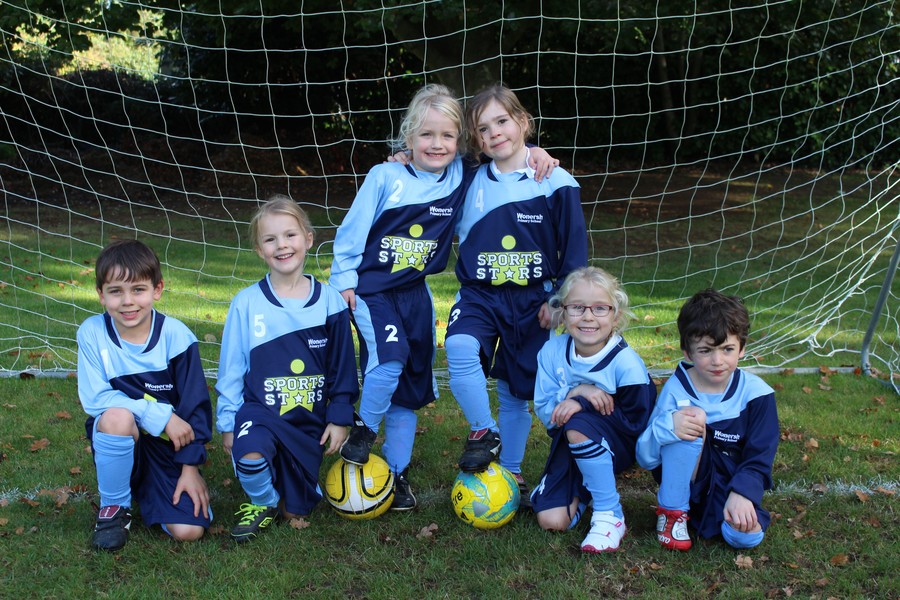 Tag Rugby Festival
Our KS2 children took part in a Tag Rugby festival at Guildford Rugby Club, preparing for next terms big tournament!
Cross Country Year 3/4 at WSG
WSG hosted its first Cross Country event against Tillingbourne. The children all ran brilliantly over a long distance. We had a first place for Harry in the Year 3 boys race and a first place for Jessica in the Year 3 girls.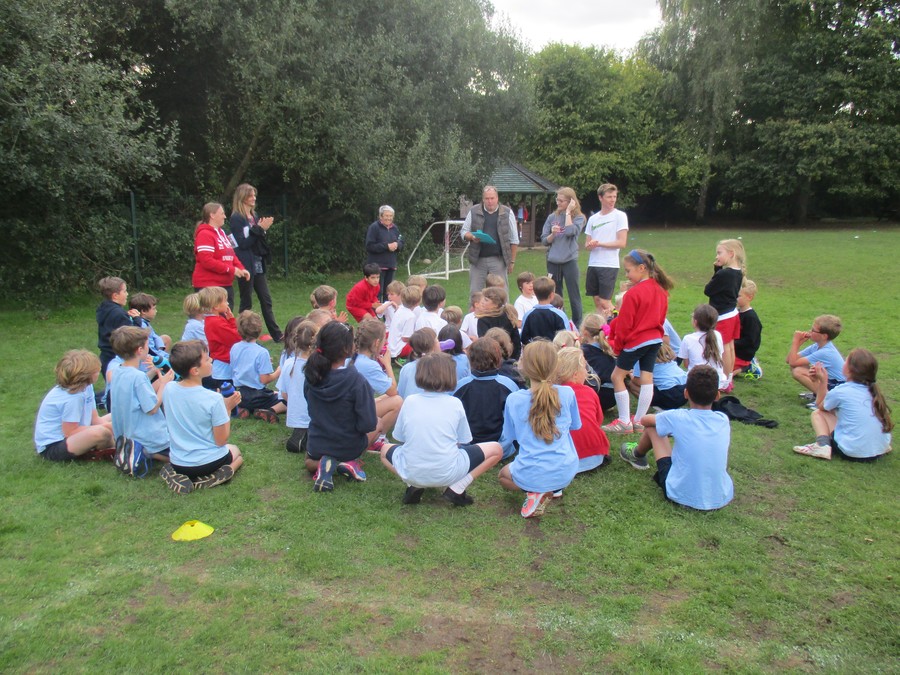 Year 6 Football Tournament
What a superb afternoon we had! Last year, we didn't win a single game or score a goal... it was such a different story this year. The progress of the team has been remarkable and the children did brilliantly against a host of other schools. Well done!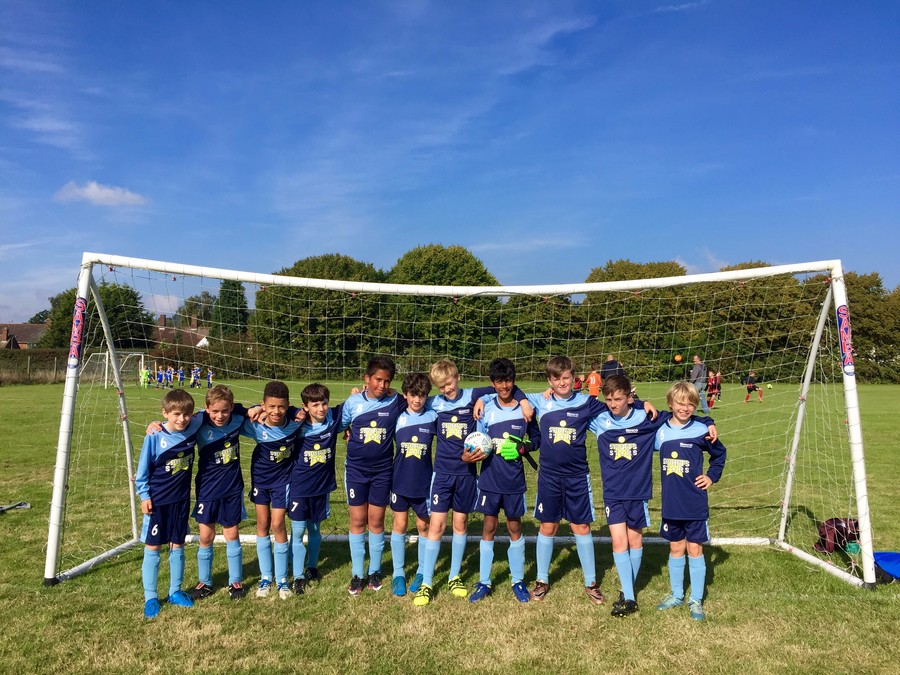 Cranleigh Football Festival
What a brilliant day we had at Cranleigh!! In the morning, the children met ex-England international Graeme Le Saux and took part in a Q and A with him. In the afternoon, the tournament began; the team finished a fantastic 4th/20!!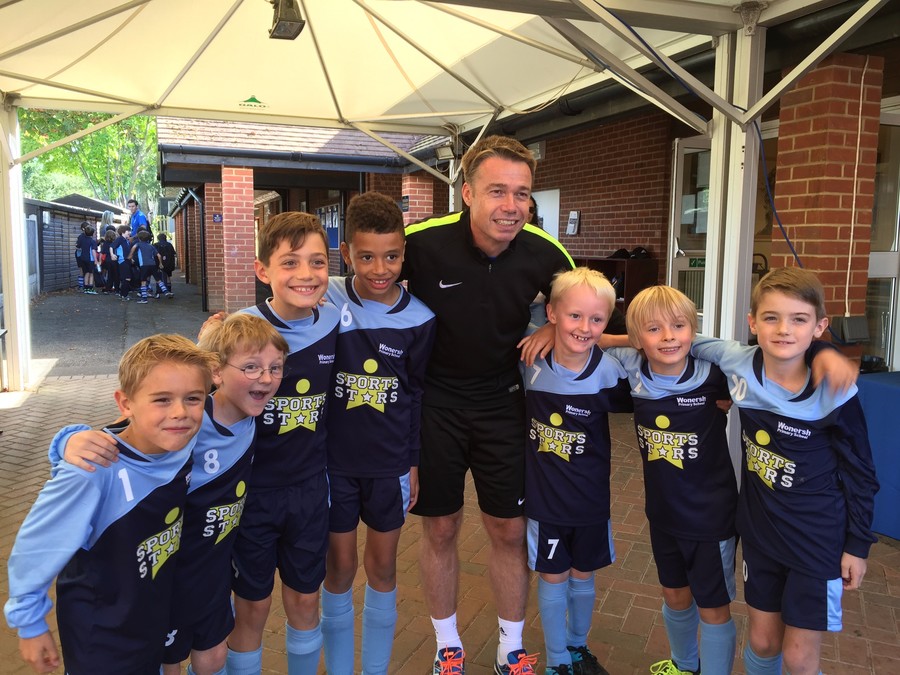 Cross Country at St Catherine's
The review of the phenomenal cross country race at St Catherine's 2016
By Isabelle, Ruby and Ella
On Tuesday the 13th of September 2016 the girls from Wonersh & Shamley Green school went to St Catherine's for a cross-country race. This report will tell you a detailed description of the incredible race that occurred only a few days ago.
Everyone was in their smashing PE kit and were doing many warm ups to prepare for the big races ahead. The first race was the year 3's chance to shine. They did one lap of the huge course and came to the end panting and puffing (while feeling proud, and delighted, inside). Everyone did extremely well… we could not wait for the results!
Next came the year 4's, they were told what to do and then zoomed off leaving a trail of dust behind them. They did 2 whopping laps around the field them came to a fantastic flourishing finish!!!!
Next came the year 5's. Their worried levels were off the charts but their courage was there to push them on and help them finish the race. They all felt like it would never end but it soon came to an abrupt stop.
Soon it was the year 6's turn to run, they powered off and before you knew it… you could feel the wind rushing past you as they past on their second lap! When they finished their last lap, they hardly seemed tired at all!
Next, we all poured water over each other because we were so hot! It was very cool and relaxing after the boiling race.
After all the races, we all took our places aside all the other schools and waiting to hear our scores we were all very excited to see if we had got any medals! We hadn't won any medals but still did really well. We improved so much from last year!!!
We all had a fantastic time on the hottest day of the month in 40 years. We had come away happy, exhausted and proud.